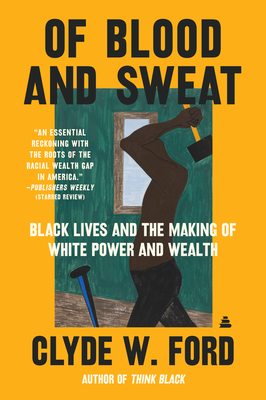 Of Blood and Sweat: Black Lives and the Making of White Power and Wealth
Publication Date:
February 7th, 2023
Usually Ships in 1 to 5 Days
Staff Reviews
Whether the first people captured in Angola in Africa and  brought to the Virginia colony in 1619 were enslaved or  indentured servants may seem a moot point, if not  preposterous to suggest. 
Clyde W. Ford makes the case in his forthcoming book, Of  Blood and Sweat — Black Lives And The Genesis Of White Power And Wealth, such a distinction is critical to gain an  understanding of how the labor of Black people was the  foundation on which white power and wealth were created. 
Delving deep into the English common law that was used  in Virginia, and other colonies, he cites numerous sources to  posit indentured servitude was the norm in the 1600s — for  people of all races. The system that worked in England,  however, had drawbacks in the colonies, particularly in the  tobacco-based economy of colonial Virginia. 
First, indentured servitude meant there was a time limit  on a person's service. Secondly, under the common law, when  the time of service expired, the master-planter of the servant  was required to provide clothing and several barrels of corn — "Freedom Dues" — to the person. Not only was this a cost, the  "owner" also lost the services, sometimes skilled, the  indentured person had. And the owner had a continuing need  for labor to plant, tend and harvest the tobacco. Beyond this,  the common law had flaws or loopholes that allowed a person  to sue for their freedom. Among these were the time limit of  indentured servitude was achieved; that a person's freedom  depended on whether the father was white and a free or not free person; and also, whether or not a person was a Christian. 
Indentured servitude in the colonies, according to Ford's  research, applied to more white people such as the Irish and  destitute and imprisoned English people than Black people; in 17th-century Virginia, Ford states, 75 percent of the population  was a servant and in 1640, he states, there were less than 100  African people in Virginia. In sum, indentured white people  made up far more of the population than Black people, and there were far more servants than masters. This created a  problem: were all those people given freedom and the rights of  equality they could upset the class structure under which they  served. 
Ford found the ruling gentry solved the problem by  passing new laws closing those loopholes. Among those was  bringing slavery — based on race — to the fore, thus lessening  the need for indentured servitude. This guaranteed white  tobacco planters a labor force, drove a wedge between poor  whites and Blacks, and was less of a cost to the planters than  the former system. 
Slavery, however, also had costs, chief among them  capturing people in regions of Africa, transporting them to the  colonies and then selling them. This led to the creation of an  investor class in England. This paid for those costs and returns,  with precursors of the popular but flawed derivative bundling of  real estate in the modern era. This also led to the creation of  an insurance industry that covered losses to pirates, to storm, to sickness or other reasons the investors might lose their  investments in enslaved people. 
Ford offers chapter and verse through the years, decades  and centuries to show how the legal, financial and political  systems existed and evolved to benefit and strengthen white  power and wealth — from 1619 to the present day. His writing  is clear, his research-based arguments compelling. The book is  fascinating, eye-opening and worth reading.
— Ross Connelly
Description
"Ford's overlap of past and present, narrative and commentary is masterful, and makes this volume all the more valuable to those readers wise enough to allow the past to inform the future. Of Blood and Sweat is a myth-busting work of genius that will stand as the last word on this vital subject for a long time to come."—Elizabeth Dowling Taylor, New York Times bestselling author of A Slave in the White House and The Original Black Elite
In this, provocative, timely, and painstakingly researched book, the award-winning author of Think Black tells the story of how Black labor helped to create and sustain the wealth of the white one percent throughout American history.
Clyde W. Ford uses the lives of individual Black men and women as a lens to explore the role they have played in creating American institutions of power and wealth—in agriculture, politics, jurisprudence, law enforcement, culture, medicine, financial services, and many other fields—while not being allowed to fully participate or share in the rewards. Today, activists have taken the struggle for racial equity and justice to the streets. Of Blood and Sweat goes back through time to excavate the roots of this struggle, from pre-colonial Africa through post-Civil War America. As Ford reveals, in tracing the history of almost any major American institution of power and wealth you'll find it was created by Black Americans, or created to control them.
Painstakingly researched and documented, Of Blood and Sweat is a compelling look at the past that holds broad implications for present-day calls for racial equity, racial justice, and the abolishment of systemic racism, and offers invaluable insight into our understanding of Black history and the story of America.
Praise for Of Blood and Sweat: Black Lives and the Making of White Power and Wealth
"an essential reckoning with the roots of the racial wealth gap in America." — Publishers Weekly (starred review)
"A compelling argument for long-overdue reparations—though much more than that alone." — Kirkus Reviews
"Ford's forceful arguments and writing will compel readers to face the facts of the long history of exploitation and appropriation that have defined so much of America's struggle with itself to give substance and meaning to its promise of 'freedom' for all."
— Library Journal
(starred review) "Ford makes a clear case that the past is never over. The wounds inflicted by slavery have never healed, and he argues that they will continue to harm our country until we deal with them honestly. For many Americans, reading Of Blood and Sweat will be an excellent first step in that process."
— BookPage