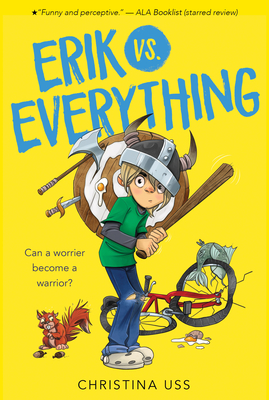 Erik vs. Everything
Publication Date:
June 13th, 2023
Usually Ships in 1 to 5 Days
Description
Can a worrier really become a warrior? Nine-year-old Erik Sheepflattener's life motto is Avoid Stuff, despite his family's attempts to bring out his inner Viking. In this outrageously quirky, "funny and perceptive"* novel . . . why not be both? (*Booklist, starred review)
Meet Erik Sheepflattener. Each member of his modern-day Viking-heritage family has a motto to live by. His parents have Family and Pride. His sisters have Conquer and Win. His grandfather has Turnip. But Erik is developing a motto he can truly believe in: Avoid Stuff.
Mostly, Erik's fierce family ignores or discounts him, especially when he tries to say no. But while spending the summer with his rough-and-tumble cousins and older sister Brunhilde in Minnesota, axe-wielding Bru gets the idea to name and Conquer all of Erik's fears. Will anyone hear him say no before it's too late? And will Erik end up defined by his fears, or by his fearless family? 
Erik vs. Everything is an adventurous, humorous, and heartfelt romp about finding your place, speaking up for yourself, and pursuing what you love . . . even when it scares you.
Praise for Erik vs. Everything
★"[A] funny and perceptive tale....readers will enjoy cheering [Erik] on as much as they will delight in the antics of his loving, Wagnerian extended family." — Booklist (starred review)
★ "This riotous second novel by Uss (The Adventures of a Girl Called Bicycle), interlaced with quotes from the Lore and a toddler's edition of The Art of War, overflows with rollicking scenes of Viking-inspired mayhem and droll dialogue without forgoing respect for the difficulties wrought by Erik's anxiety." — Publishers Weekly (starred review)
"This story has a fun cast of characters, all with their own strengths and personality quirks....This story takes family lore and traditions and blends them with modern tips and tricks to tackle life. It is a fun, uplifting, and often laugh-out-loud story....A great addition to any elementary and even middle school library with a lesson on determination, taking risks, and family values." — School Library Journal
 "Once again, Uss delivers a story carried by well-developed characters, plenty of dialogue, and humor." — Horn Book Magazine
"A quirky delight." — Kirkus Reviews