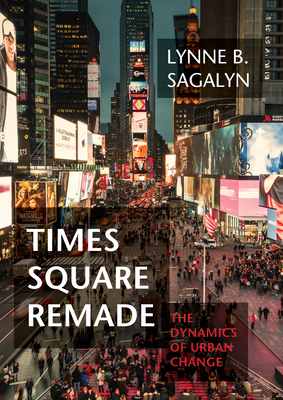 Times Square Remade: The Dynamics of Urban Change
Publication Date:
October 10th, 2023
Usually Ships in 1 to 5 Days
Description
The illuminating evolution of the iconic space of Times Square.
What is it about Times Square that has inspired such attention for well over a century? And how is it that, despite its many changes of character, the place has maintained a unique hold on our collective imagination? In this book, which comes twenty years after her widely acclaimed Times Square Roulette, Lynne Sagalyn masterfully tells the story of profound urban change over decades in the symbolic space that is New York City's Times Square. Drawing on the history, sociology, and political economy of the place, Times Square Remade examines how the public-private transformation of 42nd Street at Times Square impacted the entertainment district and adjacent neighborhoods, particularly Hell's Kitchen.
Sagalyn chronicles the earliest halcyon days of 42nd Street and Times Square as the nexus of speculation and competitive theater building as well as its darkest days as vice central, and on to the years of aggressive government intervention to cleanse West 42nd Street of pornography and crime. Thematically, the author analyzes the three main forces that have shaped and reshaped Times Square—theater, real estate, and pornography—and explains the politics and economics of what got built and what has been restored or preserved.
Accompanied by nearly 160 images, more than half in color, Times Square Remade is a deftly woven narrative of urban transformation that will appeal as much to the general reader and New York City enthusiast as to urbanists, city planners, architects, urban designers, and policymakers.
Praise for Times Square Remade: The Dynamics of Urban Change
"There is no more famous intersection in the world than Times Square, and no intersection has gone through so many highs and lows. The construction of the Times Square Tower, the new home of The New York Times, in the early 1900s not only led to the renaming of what was then called Longacre Square but helped attract the theaters and restaurants (and neon signs) that made it the thriving, brightly lit tourist mecca it became. Decline then set in, making Times Square synonymous with vice, drugs, muggings, and, not to get too technical, sleaze. The cleanup campaign that began in the 1980s may have left some deriding it as the Disneyfication of Times Square, but, face it, would you rather be accosted by a pimp or by a panhandler dressed as Goofy? True New Yorkers still avoid the place unless they work there or wish to see The Lion King, but in Lynne B. Sagalyn's smart and elegant analysis of what constitutes a public space successfully reborn by government and private partnership, one can only marvel at what has been wrought. Times Square, like it or not, symbolizes the city, and New York depends on its vitality if it is to remain the city that never sleeps."
—Airmail
"Lynne Sagalyn, a professor emeritus of real estate at Columbia University's Business School, has just published a history of the area, Times Square Remade: The Dynamics of Urban Change, that puts the area's current woes in perspective. Sagalyn has spent over 30 years thinking and writing about Times Square. Her 2001 book, Times Square Roulette: Remaking the City Icon, focused on the ambitious rebuilding of the area that began in the 1960s but wasn't complete until the early 2000s. In that book, Sagalyn traced the transformation of the district from a seedy lowlife destination into a revitalized entertainment district with massive new office towers and bigger, brighter signs. Her latest book goes much further back, to the neighborhood's emergence in the 1890s as the city's new theater district."
—Curbed/New York magazine