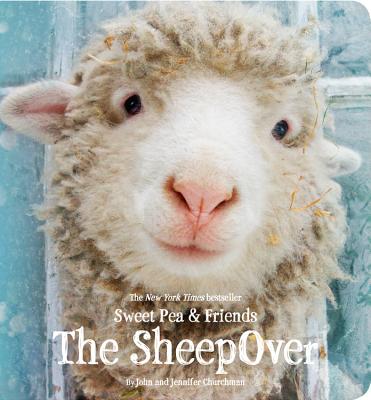 The SheepOver (Sweet Pea & Friends #1)
Publication Date:
January 24th, 2017
Description
Meet the adorable orphan lamb Sweet Pea and discover why her true story has become a picture book phenomenon and enchanted readers of all ages!
One cold winter night, Sweet Pea the orphan lamb becomes very sick. Everyone in the farmyard is worried about her! Under the watchful care of Farmer John, Laddie the sheepdog, and Dr. Alison the mobile veterinarian, she slowly recovers. Dr. Alison tells Sweet Pea she can have a sleepover to celebrate as soon as she is well again. When the day finally comes, her closest friends Sunny, Prem, and Violet join her in the greenhouse for a fun and imaginative "SheepOver" celebration.
This charming story of caring and friendship by farm owners John and Jennifer Churchman, brought to life with John's entrancing photo-illustrations, will enchant readers young and old. In the words of one of her many fans, "Sweet Pea brings a calming, authentic joy to my life that makes me laugh, cry and gives me hope that all is well in the world. . . . Everyone needs a little Sweet Pea in their lives!"
Praise for The SheepOver (Sweet Pea & Friends #1)
Praise for The SheepOver:
"I'd never met John, or heard of his farm, but when he brought in this book for us to consider selling, it was hard not to jump over the counter and pump his hand in congratulations....This is a book that sells itself the minute you put it into a customer's hands."—Elizabeth Bluemle, Publishers Weekly Shelftalker blog
"The Churchmans capture something that feels like a modern-day fairy tale."— Publishers Weekly
A New York Times bestseller!