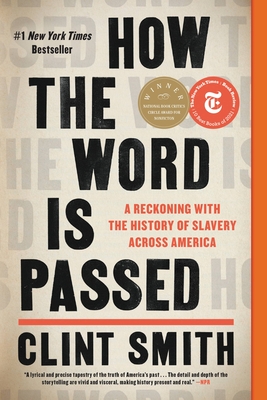 How the Word Is Passed: A Reckoning with the History of Slavery Across America
Publication Date:
December 27th, 2022
Publisher:
Little, Brown and Company
Usually Ships in 1 to 5 Days
Staff Reviews
Clint Smith's How The Word Is Passed is about history — the history that is hidden, even though that history is in plain sight. The history when learned changes how we view history — and the present.
Smith tells of Monticello, but focuses on slavery and the 130 slaves Thomas Jefferson owned, and Sally Hemings, the woman he owned and was the mother of children he sired. There is no portrait of Hemings nor records Jefferson wrote about her. "She is a shadow without a body," Smith writes. "A constellation for whom there are no stars."
The reader is taken to the restored Whitney Plantation in Louisiana; not a place where people book weddings and balls. Rather, the tour includes sculptures of the heads of slaves, on the tops of pikes. In life, the slaves were murdered, beheaded and displayed after they were captured after an attempt to revolt.
The Angola Prison, also in Louisiana, was once an 18,000-acre plantation whose crops were planted, cared for and harvested by slaves. Those same acres still grow crops, tended by prisoners.
At a Virginia cemetery for Confederate soldiers a man tells Smith people are always told the Civil War was about slavery. "And it wasn't," the man says. "It was about the fact each state had the right to govern itself." And yet the official documents of each of those states is explicit that maintaining slavery led to the severance.
A tour in lower Manhattan focuses on slavery in New York City and how it was part of a global system. At the time of the Civil War, the nation's 4 million slaves were the most valuable asset in the country's economy — worth more than the combined value of all the railroads and manufacturing.
Gorée Island, Senegal is where thousands of people made their last stop before being loaded onto slave ships and sent to America. Streets on the island and in Dakar, the country's capital, are often named for Frenchmen. A young boy ran by Smith and his guide. The man knew the boy would soon ask about the street name and learn of colonial history but not of his country's history before and since colonization.
Smith's mind turned to his native New Orleans and other places in the South when young Black boys might run down streets named for Confederate generals, and past the many monuments erected in their honor. "Why are these statues up of people who were fighting to keep slavery?" Smith asks. "That doesn't make any sense."
His two surviving grandparents share their memories of growing up in the segregated South. Lynching was not unknown to his grandfather. "In 1930s Mississippi, it saturated the air, its possibility was the humidity that clung to his skin," Smith writes. His grandmother experienced the indignities of Jim Crow as she grew up, particularly in school. "Middle Passage," she exclaimed. "That was not even in our books. … You just knew there were things you could and could not do. … I used to have a really, really bad inferiority complex."
Smith knew the stories of segregation, but "I had not fully considered the way they might have affected my own family — perhaps because of the way we talk about certain episodes of U.S. history."
Smith gives the reader the chance to look at that history, to learn that history, to feel that history in a new way. His book is important, a worthy read.
— Ross Connelly
Description
This "important and timely" (Drew Faust, Harvard Magazine) #1 New York Times bestseller examines the legacy of slavery in America—and how both history and memory continue to shape our everyday lives.
Beginning in his hometown of New Orleans, Clint Smith leads the reader on an unforgettable tour of monuments and landmarks—those that are honest about the past and those that are not—that offer an intergenerational story of how slavery has been central in shaping our nation's collective history, and ourselves.
It is the story of the Monticello Plantation in Virginia, the estate where Thomas Jefferson wrote letters espousing the urgent need for liberty while enslaving more than four hundred people. It is the story of the Whitney Plantation, one of the only former plantations devoted to preserving the experience of the enslaved people whose lives and work sustained it. It is the story of Angola, a former plantation-turned-maximum-security prison in Louisiana that is filled with Black men who work across the 18,000-acre land for virtually no pay. And it is the story of Blandford Cemetery, the final resting place of tens of thousands of Confederate soldiers.
A deeply researched and transporting exploration of the legacy of slavery and its imprint on centuries of American history, How the Word Is Passed illustrates how some of our country's most essential stories are hidden in plain view—whether in places we might drive by on our way to work, holidays such as Juneteenth, or entire neighborhoods like downtown Manhattan, where the brutal history of the trade in enslaved men, women, and children has been deeply imprinted.
Informed by scholarship and brought to life by the story of people living today, Smith's debut work of nonfiction is a landmark of reflection and insight that offers a new understanding of the hopeful role that memory and history can play in making sense of our country and how it has come to be.
Winner of the National Book Critics Circle Award for Nonfiction
Winner of the Stowe Prize 
Winner of 2022 Hillman Prize for Book Journalism 
A New York Times 10 Best Books of 2021 
Praise for How the Word Is Passed: A Reckoning with the History of Slavery Across America
"The Atlantic writer drafts a history of slavery in this country unlike anything you've read before."—Entertainment Weekly
"An important and timely book about race in America."—Drew Faust, Harvard Magazine
"Merging memoir, travelogue, and history, Smith fashions an affecting, often lyrical narrative of witness."—The New York Review of Books
"In this exploration of the ways we talk about — and avoid talking about — slavery, Smith blends reportage and deep critical thinking to produce a work that interrogates both history and memory."—Kate Tuttle, Boston Globe
"Raises questions that we must all address, without recourse to wishful thinking or the collective ignorance and willful denial that fuels white supremacy." —Martha Anne Toll, The Washington Post
"Sketches an impressive and deeply affecting human cartography of America's historical conscience…an extraordinary contribution to the way we understand ourselves." —Julian Lucas, New York Times Book Review
"With careful research, scholarship, and perspective, Smith underscores a necessary truth: the imprint of slavery is unyieldingly present in contemporary America, and the stories of its legacy, of the enslaved people and their descendants, are everywhere."—TeenVogue
"History is often contested ground; people argue over whose stories matter, and how they are communicated. In this personal, thoughtful book, Smith visits the landmarks and museums that attempt to tell Americans the story of slavery. Along the way, he talks to all kinds of people, encountering moments of anger and denial as well as sparks of hope, humanity and grace."—People, Black History Month reading list
"Clint Smith, in his new book "How the Word Is Passed," has created something subtle and extraordinary."—Christian Science Monitor
"Part of what makes this book so brilliant is its bothandedness. It is both a searching historical work and a journalistic account of how these historic sites operate today. Its both carefully researched and lyrical. I mean Smith is a poet and the sentences in this book just are piercingly alive. And it's both extremely personal—it is the author's story—and extraordinarily sweeping. It amplifies lots of other voices. Past and present. Reading it I kept thinking about that great Alice Walker line 'All History is Current'."—John Green, New York Times bestselling author of The Anthropocene Reviewed
"The summer's most visionary work of nonfiction is this radical reckoning with slavery, as represented in the nation's monuments, plantations, and landmarks."—Adrienne Westenfeld, Esquire
"The detail and depth of the storytelling is vivid and visceral, making history present and real. Equally commendable is the care and compassion shown to those Smith interviews — whether tour guides or fellow visitors in these many spaces. Due to his care as an interviewer, the responses Smith elicits are resonant and powerful. . . . Smith deftly connects the past, hiding in plain sight, with today's lingering effects."—Hope Wabuke, NPR
"This isn't just a work of history, it's an intimate, active exploration of how we're still constructing and distorting our history." —Ron Charles, The Washington Post
"Both an honoring and an exposé of slavery's legacy in America and how this nation is built upon the experiences, blood, sweat and tears of the formerly enslaved."—The Root
"The power of an itinerant narrator—Smith journeys to Monticello, Angola Prison, Blandford Cemetery, and downtown Manhattan—is that it reveals slavery's expansive, geographical legacy. Smith tells his stories with the soul of a poet and the heart of an educator."—The Millions
"What [Smith] does, quite successfully, is show that we whitewash our history at our own risk. That history is literally still here, taking up acres of space, memorializing the past, and teaching us how we got to be where we are, and the way we are. Bury it now and it will only come calling later." —USA Today