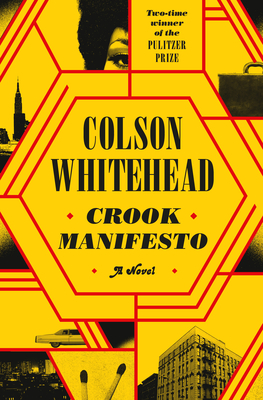 Crook Manifesto: A Novel
Publication Date:
July 18th, 2023
Usually Ships in 1 to 5 Days
Staff Reviews
Crook Manifesto is full of violence, cruelty, horror, pathos, and it is funny. The book sings with Colson Whitehead's always delightful and headshaking prose.
The book is the second installment of a trilogy that began with Harlem Shuffle. As with that book, there is sociology, economics, politics, culture and people far from the everyday life of readers who seldom if ever walk the streets of uptown New York City. Many of the characters are familiar from the first book but the depth of the people in this go-round exhibit more substance and the tale is more complex.
Harlem Shuffle was set in the 1960s. Crook Manifesto, to be published in July, is set in the 1970s, still in Harlem. The apex of the trilogy will bring readers front and center with Harlem in the 1980s, but who knows the focus Whitehead will bring to its pages.
Crook Manifesto begins in 1971. Ray Carney, the owner of Carney's Furniture readers met in Harlem Shuffle, is trying to escape his past as a fence, a practice mingled with the legitimacy of selling dining room sets, living room sofas, recliners and more. He hopes his ability to find buyers for the "rugs that fell off the truck," and other items of greater value, is history.
He, his wife and two children have moved up in the world. Gone with the past is the flat next to the elevated train to a brownstone on Striver's Row and a love/hate membership in the Dumas Club where the professional Black men of means gather. The club where deals are made, advantages are solidified, power is protected and pleasure is found, all under the glow of respectability.
Carney's store has grown to the point he doesn't need to supplement its income with a side door or worry about giving weekly envelopes of cash to the cop on the beat to look the other way. Carney is successful and legitimate.
Life is complex, however, and Whitehead does not write with clichés. He puts fiction on the pages, surely not far from the truth of the streets. His daughter wants Jackson 5 concert tickets, not available by standard means. Munson, that cop on the beat with envelopes stuffed in his pockets, is the agent to see for the scarce stubs with seat and row numbers needed for access. A favor asked, of course, requires one in return. The violence that ensues, at times, seems almost gratuitous but read on, the story evolves.
Pepper, Carney's and his father's partner in earlier crimes, is back. He is a brutal man who found normalized violence and killings in World War II, but he has a streak of decency, of right and wrong, of loyalty; he's Uncle Pepper to Carney's children. His character is well developed, taking center stage in 1973, the middle section of the novel. A Black liberation group appears and Carney cajoles Pepper to work security for a blaxploitation film that uses Carney's furniture showroom for some of its scenes. The crime boss of Harlem and his enforces return as well, the beautiful star of the movie the fulcrum of the action. The curtains hiding intertwined lives open as the story line builds steam.
The pages move on to 1976, with city politics, arson, insurance kickbacks and the exploitation embedded there, come to the fore. One of those fires comes close to Carney and prompts him to put Pepper on the who-did-it trail. All of this while Carney's wife, a successful travel agent, volunteers on the campaign of a childhood friend from Striver's Row who is running for City Council president.
The City Council candidate, a former district attorney, projects a reformist, progressive persona. Carney wonders, though, as the fires of apartment buildings, warehouses and abandoned homes go up in flames, again and again and again. Fists fly, guns shoot, knives cut, baseball bats and crowbars swing, as boots stomp bodies. Blood flows. Again, again and again. The twists and turns and many characters, from thugs to bartenders to a crazed firebug, to Pepper, Carney and the candidate, require the reader to pay attention, but that's not hard. The pages turn easily and quickly.
The book is much more than a shoot-em-up, violent tale. Carney's wife, their children, a nephew, the tenants of an apartment Carney owns and, yes, Pepper, bring a human side to the pages. One side of Carney is crooked and Pepper is never too far from actualizing crookedness and brutality. Amidst the mayhem, however, there is humor and loyalty to family and others who live within and beyond the dark reality of corruption, intentional fires, violence and murder.
This is a good book and one that requires the reader to pay attention as the characters are many, come in and out of the plot and are all intertwined during the 1970s. Presumably, they, or their shadows, will resurface in the 1980s book, which is scheduled to complete Whitehead's trilogy. Crook Manifesto is another worthy example of his talent as a novelist. He is a wonderful storyteller!
— Ross Connelly
Colson Whitehead has given us all the gift of Ray Carney's Harlem.Crook Manifestois one of 2023's finest crime novels, not to mention one of the best overall novels of the year. Colson, we cannot wait for what's next!
August 2023 Indie Next List
Description
NEW YORK TIMES BESTSELLER • The two-time Pulitzer Prize winner and bestselling author of Harlem Shuffle continues his Harlem saga in a powerful and hugely-entertaining novel that summons 1970s New York in all its seedy glory.
A Best Book of the Year: The New York Times, The Washington Post, TIME, NPR, BookPage
"Dazzling" –Walter Mosley, The New York Times Book Review.
It's 1971. Trash piles up on the streets, crime is at an all-time high, the city is careening towards bankruptcy, and a shooting war has broken out between the NYPD and the Black Liberation Army. Amidst this collective nervous breakdown furniture store owner and ex-fence Ray Carney tries to keep his head down and his business thriving. His days moving stolen goods around the city are over. It's strictly the straight-and-narrow for him — until he needs Jackson 5 tickets for his daughter May and he decides to hit up his old police contact Munson, fixer extraordinaire.  But Munson has his own favors to ask of Carney and staying out of the game gets a lot more complicated – and deadly.
1973. The counter-culture has created a new generation, the old ways are being overthrown, but there is one constant, Pepper, Carney's endearingly violent partner in crime.  It's getting harder to put together a reliable crew for hijackings, heists, and assorted felonies, so Pepper takes on a side gig doing security on a Blaxploitation shoot in Harlem.  He finds himself in a freaky world of Hollywood stars, up-and-coming comedians, and celebrity drug dealers, in addition to the usual cast of hustlers, mobsters, and hit men. These adversaries underestimate the seasoned crook – to their regret.
1976.  Harlem is burning, block by block, while the whole country is gearing up for Bicentennial celebrations.  Carney is trying to come up with a July 4th ad he can live with. ("Two Hundred Years of Getting Away with It!"), while his wife Elizabeth is campaigning for her childhood friend, the former assistant D.A and rising politician Alexander Oakes.  When a fire severely injures one of Carney's tenants, he enlists Pepper to look into who may be behind it. Our crooked duo have to battle their way through a crumbling metropolis run by the shady, the violent, and the utterly corrupted.
CROOK MANIFESTO is a darkly funny tale of a city under siege, but also a sneakily searching portrait of the meaning of family.  Colson Whitehead's kaleidoscopic portrait of Harlem is sure to stand as one of the all-time great evocations of a place and a time.
Praise for Crook Manifesto: A Novel
A Best Book of the Year: The New York Times, The Washington Post, TIME, NPR, Esquire, BookPage
"Dazzling … a glorious and intricate anatomy of the heist, the con and the slow game … [Whitehead] uses the crime novel as a lens to investigate the mechanics of a singular neighborhood at a particular tipping point in time. He has it right: the music, the energy, the painful calculus of loss. Structured into three time periods — 1971, 1973 and finally the year of America's bicentennial celebration, 1976 — "Crook Manifesto" gleefully detonates its satire upon this world while getting to the heart of the place and its people."
—Walter Mosley, New York Times Book Review (cover)
"Whitehead's New York of the '70s is a fully realized universe down to the most meticulous details (Parts of "Crook Manifesto" would pair nicely with Robert Caro's "The Power Broker") … Crook Manifesto" and "Harlem Shuffle" also form a joint reminder, as if we still needed one, that crime fiction can be great literature. These books are as resonant and finely observed as anything Whitehead has written. They have the pulpy verve of Harlem's crime fiction godfather, Chester Himes, combined with the literary heft of Whitehead's more garlanded novels."
—Los Angeles Times

 "Remarkable…For all its slapstick fun, this project also contains the same gravitas as August Wilson's seminal 10-play Century Cycle about Black life in Pittsburgh … When Carney is reflecting, attempting to better understand how Black Harlemites and Black Americans have survived before and will survive again, Whitehead is at his best. It makes this story feel important, not just entertaining, not just suspenseful, not just another surefire bestseller from a beloved author. These are crime novels, yes; funny and fast-paced. They are also the first two installments of a grand historical epic. Novel writing at its best. Bigger and better, together, than anything Whitehead has written before." —The Washington Post
 
"Whitehead's flair for texture is as sharp as ever…Ray, May, Elizabeth and Pepper in particular are by turns exasperating and aspirational. Life gets thrown at them, and they throw themselves back in return. These are people you crave to catch up with, and in Whitehead's hands, the vast and intangible forces of society, injustice, morality, survival and love are distilled in them."
—NPR
"Through brilliantly constructed twists and turns, set in a vibrantly detailed 1970s New York City, Whitehead once again demonstrates his prowess as an author whose work can stand out in any genre. His latest crime novel is simultaneously sharp, funny, and full of heart—and an elegant portrait of Harlem and its residents."
—Time

"In this stylish social novel for the twenty-first century, Whitehead soars to new heights." —Esquire

"[A] masterwork of stylish noir and social satire ... Whitehead's larger project propels us forward, probing the whipsaw of race and the ouroboros of virtue and vice."
—Minneapolis Star-Tribune
 
"A dazzling sequel to Harlem Shuffle ... Two-time Pulitzer-winning author Whitehead shows no sign of resting on his laurels. Crook Manifesto continues the brilliantly realized sequence that began with Harlem Shuffle, intricately depicting cultural history and family drama with the compelling energy of a crime thriller and the sharp wit of social satire. Harlem itself is one of the lead characters, and there are echoes of other chroniclers of this burg such as James Baldwin and Chester Himes. In ambition and scope, in the way the intimate is so deftly weaved with the epic, one is also reminded of Balzac. Whitehead has embarked on a great comédie humaine of his own." —The Guardian
 
"Fierce and glorious ... Sentence by brilliant, funny sentence, a masterpiece" —People
"[Whitehead] combines the crime caper form with the Dickensian social novel and powers it all with a turbo charge of humor and a rich Harlem setting." —Tampa Bay Times