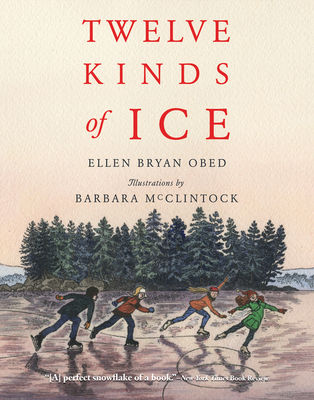 Twelve Kinds of Ice
Publication Date:
November 3rd, 2015
Staff Reviews
The first ice is the skim on the pail, the second, ice thick enough to pick up like glass. Winter proceeds with ice in the stream, field ice, black ice on the pond, and  the backyard rink. A winter filled with family joy and a celebration of being outside together. Line drawings by Barbara McClintock capture the warmth and humor.
— Chris McDonnell
While some grumble about the cold, others wait for their breath to become frosty, for the air to feel silver with ice and cold. Obed captures this feeling, distilling the essence of winter into poetic prose. She traces winter by marking each type of ice that forms and the fun one can have on it. Every sentence begs to be read aloud, and McClintock's illustrations are exquisite. Twelve Kinds of Ice is a wintertime gem, perfect for slipping into a mittened hand, curling up with beside a fire, or tucking into a stocking.
Winter 2012 Kids Next List
Description
With the first ice—a skim on a sheep pail so thin, it breaks when touched—one family's winter begins in earnest. Next comes ice like panes of glass. And eventually, skating ice! Take a literary skate over field ice and streams, through sleeping orchards and beyond. The first ice, the second ice, the third ice . . . perfect ice . . . the last ice . . . Twelve kinds of ice are carved into twenty nostalgic vignettes, illustrated in elegantly scratched detail by the award-winning Barbara McClintock.
Praise for Twelve Kinds of Ice
- A Junior Library Guild Selection
- A Winter 2012-13 Kids' Indie Next List Pick
- Kirkus Best Children's Books of 2012
- Booklist's Editors' Choice list for 2012
- NYPL 100 Titles for Reading & Sharing, 2012 "[A] perfect snowflake of a book. . . this is a book about a young woman's deep connection to nature and her family, but also the thrilling reward of pitching in together to create something magical"
—New York Times Book Review "Snug and elegant, evocative and fun, Ellen Bryan Obed's memoir from her childhood winters in Maine skates along in an aesthetic pas de deux, as you might say, with Barbara McClintock's graceful black-and-white drawings."
—The Wall Street Journal "Evocative and at the same time marvelously real, this is as much about expectation and the warmth to be found in family and friends as it is about cold ice . . . Everyone will find this a small gem."
—Booklist, starred review "Irresistible."
—Kirkus, starred review "This is a celebration of play, of winter, and of imagination . . . in an icy collection whose overarching quality is warmth."
—Horn Book "Like a souvenir from a bygone era . . . Today's readers will marvel at the old-fashioned amusements, chronicled with folksy charm."
—Publishers Weekly, starred review "Delicate pen-and-ink illustrations enhance the action, emotions, and humor of each short description of ice and frost goings-on. . . . [A] brief but unforgettable volume."
—School Library Journal, starred review "The rituals and humor connected with a timeless childhood experience unspool seemingly without effort from author and artist in this intimate volume."
—Shelf Awareness, starred review "This is a joyful, spirited gem of a book, as bracing and glorious as a perfect stretch of ice."
—Newbery Honor author Joyce Sidman "A book like this one doesn't come along every day. Would that they did."
—Betsy Bird, Fuse#8 blogger "Obed's prose is crystalline: clear, pure, and entrancing. But the real subject of the book is not ice, but happiness; a happiness so contagious that readers of all ages will close the book with a sigh."
—Laura Amy Schlitz, Newbery Medal winner of Good Masters! Sweet Ladies! Voices from a Medieval Village "Ellen Bryan Obed's prose transported me to my own childhood of all kinds of ice-some very dirty and bad, others grand and ethereal-nevertheless, all full of adventure, reminding me, too, of the great joy of winter. The beauty of Obed's prose is matched perfectly by McClintock's art. Who else could make a chilly subject look so warm? It is a marvelous book."
—Chris Raschka, Caldecott Medal Winner of The Hello, Goodbye Window "Twelve Kinds of Ice is a wonderful book. Ellen Bryan Obed's storytelling voice is magical, and with Barbara McClintock's delightful and evocative art the book creates an atmosphere as sharp and fresh as the winters of childhood and as satisfying as our happiest memories."
—Reeve Lindbergh, author of Our Nest —