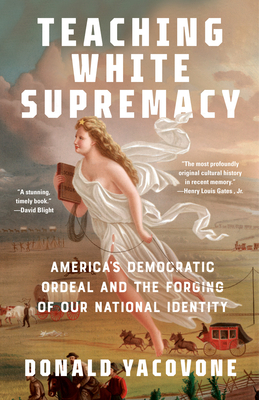 Teaching White Supremacy: America's Democratic Ordeal and the Forging of Our National Identity
Publication Date:
October 24th, 2023
Usually Ships in 1 to 5 Days
Staff Reviews
Teaching White Supremacy, by Donald Yacovone is a book about books, the people who wrote them and what is in them.
The books about which he writes are not books written by members of the Ku Klux Klan, nor those representing the ideology of the Oath Keepers, the Proud Boys, the One Percenters, or other groups that have grabbed headlines in recent years. And, no, the book is not about screeds and pamphlets written by World War II era Nazis.
The books Yacovone writes about are textbooks, textbooks read by students across America from the 1800s to the 1980s.
A staff member of Harvard's Hutchins Center for African & African American Research, he explored the nearly 3,000 K-12 textbooks in the university's Graduate School of Education library. Textbooks that were used to teach youngsters only a few years after the conclusion of the Revolutionary War and in schools and classrooms throughout the country in the two centuries that followed.
Yacovone did not find a pretty picture. He found textbooks that ignored slavery, downplayed slavery, demonized abolitionists and Reconstruction, and sugar coated Jim Crow, Most of all, the textbooks depicted Black people as inferior to white people. The books taught that Black people were incapable of assuming the rights and responsibilities of citizenship. The books taught that Black people were less human than white people; white people were supreme.
He makes clear the textbooks in Harvard's library were not outliers, read by only a few students. No, these were textbooks that were used in classroom, hundreds — thousands — of classrooms and read by hundreds of thousands of students between 1800 and the 1980s.
Yacovone's study makes clear what students were taught was inaccurate and also insidious. He interweaves current knowledge of the country's history with what was taught during various historical times, e.g., slavery, abolitionism, the Civil Way, Reconstruction, Jim Crow. What he found was the textbooks conveyed a lesson that America grew and developed by the leadership and grit of White people. The nation's founding and expansion came from the bravery and perseverance of White people, with Indigenous people an impediment and Black people only capable of hard labor. The latter came, the textbooks posited, from the Dark Continent, a place that had no history of its own. Black people, the textbooks implied, if not outright stated, were incapable of being civilized. They had to be controlled and directed, no different than animals in a field or barn.
"History textbooks proved a perfect vehicle for the transmission of such ideas, those deemed central to the survival of the nation's democratic experiment," he writes.
Yacovone focuses on several influential textbook authors and documents how they dominated the market. One was John H. Van Evrie (1814?-96). Writing several influential books prior to and after the Civil War, he transformed the interpretations of history based on white supremacy to young, impressionable minds, soon to be adults — adults who voted and, some, became decision makers from local governments to the halls of Congress.
"For Van Evrie, degrading African-Americans as a subspecies was essential for creating nineteenth-century American democracy and an enduring white identity," Yacovone writes.
The book weaves back and forth between the years before the Civil War and after. The Colonization Society was founded in 1816 with the intent to send Black people back to Africa. It had the support of Horace Mann, (1796-1859) considered the "father of public education." He helped found "normal schools" to provide teacher training but opposed admitting Black people to them. He supported sending Black people back to Africa rather than having them benefit from civil rights. The view, Yacovone reports, was also held by, among others, Ralph Waldo Emerson, Daniel Webster, Walt Whitman, Abraham Lincoln and Edward Everett, a Massachusetts governor, member of Congress and president of Harvard.
Caleb Cushing, a Harvard graduate who was a U.S. attorney general and a general in the Mexican War, opposed slavery but believed enslaved people were incapable of being "civilized." He wanted Black people sent to Africa.
Yacovone makes the point that abolitionism was directed at the institution of slavery but "cared little for slavery's victims." Slavery as a system to be ended was separated from the person.
"In 1853, Cushing stated, "I do not admit as my equals either the red man of America, or the yellow man of Asia, or the black man of Africa."
He and the others believed in and were advocates of and for white supremacy.
Harvard professor Louis Agassiz (1807-73) was considered the most influential scientist of his era and taught many of the nation's leading naturalists. In his books he made clear he had no love for Black people and insisted they were inherently inferior.
Amos Dean, a Vermont born president of the University of Iowa, who in 1857, stated the teaching of history was "God teaching by example." In other words, what was taught had a moral basis as it was based on the authority of God.
Henry Adams, (1838-1918), a widely respected Massachusetts historian whose research and writings were influential to several generations, had no use for slavery but also had no use for Black people. He blamed them and "Jewish bankers" for the failure of Reconstruction. He did not point to the white former slave owners and politicians who were intent on maintaining white power with the active support of northern politicians and public that also believed in white supremacy.
"Composers, ministers, social leaders, and authors helped shape the contours of white supremacy and ensure its dominance," Yacovone writes. He also points to a Massachusetts court decision in 1849, Roberts v. City of Boston, "that underpinned white supremacy and enforced Black inferiority." He states the Plessy v. Ferguson case of 1896, which legalized "separate but equal," and enabled Jim Crow laws of segregation, was based on the legal principals established in the 1849 case.
Public education, which grew in the late 1800s and early 1900s, needed books to teach students, among many subjects, about American history. Looking back, was the Civil War a war to end slavery or the Lost Cause of states rights?
"This nearly insatiable demand for textbooks blossomed in the 1880s, when several American publishers formed a trust, the American Book Company," Yacovone writes. And the textbooks reflected superiority of White people and inferiority of Black people. Up until Jim Crow laws were confronted and overturned in the 1950s and 1960s, the textbooks continued to teach that White people were superior and Black people inferior.
Current political divisions and debates about which textbooks to include or ban, have foundation blocks built once again on race. White supremacy is far more ingrained in the psyche of White Americans than most people recognize or care to admit. White supremacy is a part of America, historically and currently, far beyond the illustrious northern professor, the plantation slave owner or the stereotypical rednecked poor, Southern white man. White supremacy has been ingrained in the psyche of Americans since 1619; it is normal so it is effectively hidden but in plain sight. Yacovone offers a compelling case that the many textbooks that have taught young people for more than 200 years have taught white supremacy so it is as American as apple pie.
— Ross Connelly
Description
A powerful exploration of the past and present arc of America's white supremacy—from the country's inception and Revolutionary years to its 19th century flashpoint of civil war; to the Civil Rights movement of the 1960s and today's Black Lives Matter.
 
"The most profoundly original cultural history in recent memory." —Henry Louis Gates, Jr., Harvard University
"Stunning, timely . . . an achievement in writing public history . . . Teaching White Supremacy should be read widely in our roiling debate over how to teach about race and slavery in classrooms." —David W. Blight, Sterling Professor of American History, Yale University; author of the Pulitzer Prize–winning Frederick Douglass: Prophet of Freedom
Donald Yacovone shows us the clear and damning evidence of white supremacy's deep-seated roots in our nation's educational system through a fascinating, in-depth examination of America's wide assortment of texts, from primary readers to college textbooks, from popular histories to the most influential academic scholarship. Sifting through a wealth of materials from the colonial era to today, Yacovone reveals the systematic ways in which this ideology has infiltrated all aspects of American culture and how it has been at the heart of our collective national identity.
 
Yacovone lays out the arc of America's white supremacy from the country's inception and Revolutionary War years to its nineteenth-century flashpoint of civil war to the civil rights movement of the 1960s and today's Black Lives Matter. In a stunning reappraisal, the author argues that it is the North, not the South, that bears the greater responsibility for creating the dominant strain of race theory, which has been inculcated throughout the culture and in school textbooks that restricted and repressed African Americans and other minorities, even as Northerners blamed the South for its legacy of slavery, segregation, and racial injustice.
 
A major assessment of how we got to where we are today, of how white supremacy has suffused every area of American learning, from literature and science to religion, medicine, and law, and why this kind of thinking has so insidiously endured for more than three centuries.
Praise for Teaching White Supremacy: America's Democratic Ordeal and the Forging of Our National Identity
Los Angeles Times Book Prize Finalist
A "Must Read," the Massachusetts Center for the Book
"How did the South 'win the narrative war' about race equality, as Bryan Stevenson has so aptly put it, following the Civil War? In fascinating, if deeply troubling detail, the historian Donald Yacovone has charted the creation and systematic implementation of the pernicious myth of white supremacy in the very classrooms of America where our youngest and most impressionable citizens are shaped. Examining an astounding array of textbooks in the 19th and 20th centuries, Yacovone in compelling prose has captured the nation's deliberate fashioning of 'American identity' as fundamentally, inevitably, and unalterably 'white.' The most profoundly original cultural history in recent memory, Teaching White Supremacy places the development and institutionalization of American racial ideology squarely where it belongs: not in the slave South, but in the ostensibly free North, assaulting common perceptions of Northern racial exceptionalism. If we want to understand the roots of our current culture wars and our current battles over the place of race in American history classes, this marvelous book is the place to start. Yacovone's recovery of the long buried roots of racist discourse in our children's textbooks, is crucial to the creation of a long-deferred narrative of America's multi-racial past, and our multicultural present and future." —Henry Louis Gates, Jr., Harvard University
"Donald Yacovone has written a stunning, timely book about the history of our history wars. It is at once a history of American education through the lens of white supremacist ideas, a revealing study of K-12 history textbooks, and an analysis of both the complicity in and the overturning of the racist-progress narrative in historical scholarship. The book is an achievement in writing public history, and it should be read widely in our roiling debate over how to teach about race and slavery in classrooms. For those wondering how we got here with book bannings, politicized school boards, librarians in duress, and maddening ignorance about the American past, here is the long view and the immediate challenge." —David W. Blight, Sterling Professor of American History, Yale University; author of the Pulitzer Prize–winning Frederick Douglass: Prophet of Freedom
"Teaching White Supremacy reveals in great detail the battle over historical memory in public schools and how the white elite has devoted extraordinary resources to perpetuating racist ideas in each generation through the K-12 curriculum . . . Yacovone documents the timeworn playbook guiding contemporary legislators in their campaign to censor teaching truthfully about racism and other forms of oppression in U.S. history . . . Those stories of resistance permeate the book and offer strategies and inspiration for those defending the right to teach outside the textbook today." —Deborah Menkart, executive director of Teaching for Change and co-director of the Zinn Education Project
"Compelling and convincing." —Dana Goldstein, The New York Times
"What sets this book apart is Yacovone's stature and lifetime expertise as a scholar and researcher of African-American history. His deep knowledge of the long arc of prejudiced beliefs and attitudes informs opportunities to rethink the past and defy the supremacy of Whiteness in American cultural identity." —Maileen Hamto, Manhattan Book Review (five stars)
"[Yacovone] masterfully details how U.S. K–12 and college texts since the 1830s have inculcated whiteness as a national inheritance passed from generation to generation . . .  accessible, thoroughly documented, and well-reasoned. . .  essential reading for all interested in truly understanding America's past and the systemic distortions to repress and restrict the historical narrative with an insidious ideology." —Library Journal (starred review)
"Outstanding." —Kirkus (starred review)
"Monumental . . . expansive and eye-opening . . . This troubling and powerful history is essential reading." —Publishers Weekly (starred review)
"The most comprehensive examination of this subject, rich in detail." —Stephen Rohde, Truthdig
"Yacovone shows us the clear and damning evidence of white supremacy's deep-seated roots in our nation's education system . .  . fascinating. . . . Yacovone reveals the systematic ways in which white supremacist ideology has infiltrated American culture and how it has been at the heart of our collective national identity." —BookBrowse
 
 "[Yacovone] masterfully details how U.S. K–12 and college texts since the 1830s have inculcated whiteness as a national inheritance passed from generation to generation. . . . Accessible, thoroughly documented, and well-reasoned. . . . Essential reading for all interested in truly understanding America's past and the systemic distortions to repress and restrict the historical narrative with an insidious ideology." —Library Journal (starred review)