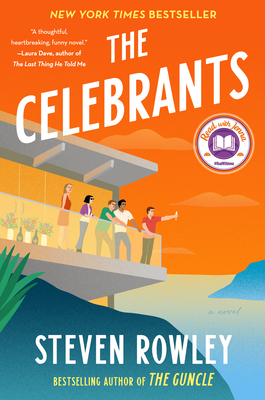 The Celebrants: A Read with Jenna Pick (A Novel)
Publication Date:
May 30th, 2023
Publisher:
G.P. Putnam's Sons
Usually Ships in 1 to 5 Days
Rowley pulls us in with humor and grace, tackling grief in precious ways. From Berkeley, Big Sur, Puerta Vallarta, and NYC, we become part of a special group of friends. All will be moved by this book and eager to plan their own living funerals.
June 2023 Indie Next List
Description
New York Times Bestseller
A TODAY Show #ReadWithJenna Book Club Pick
A Big Chill for our times, celebrating decades-long friendships and promises—especially to ourselves—by the bestselling and beloved author of The Guncle.
It's been a minute—or five years—since Jordan Vargas last saw his college friends, and twenty-eight years since their graduation from Berkeley when their adult lives officially began. Now Jordan, Jordy, Naomi, Craig, and Marielle find themselves at the brink of a new decade, with all the responsibilities of adulthood, yet no closer to having their lives figured out. Though not for a lack of trying. Over the years they've reunited in Big Sur to honor a decades-old pact to throw each other living "funerals," celebrations to remind themselves that life is worth living—that their lives mean something, to one another if not to themselves.
But this reunion is different. They're not gathered as they were to bolster Marielle as her marriage crumbled, to lift Naomi after her parents died, or to intervene when Craig pleaded guilty to art fraud. This time, Jordan is sitting on a secret that will upend their pact.
A deeply honest tribute to the growing pains of selfhood and the people who keep us going, coupled with Steven Rowley's signature humor and heart, The Celebrants is a moving tale about the false invincibility of youth and the beautiful ways in which friendship helps us celebrate our lives, even amid the deepest challenges of living.
Praise for The Celebrants: A Read with Jenna Pick (A Novel)
Finalist for the CALIBA Golden Poppy Award
A Good Housekeeping Book Club Pick
An Indie Next List Pick
A LibraryReads Hall of Fame Pick
One of The New York Times Book Review Summer Books 2023
One of Buzzfeed's Most Anticipated LGBTQ+ Books of 2023
One of Electric Lit's Most Anticipated LGBTQ+ Books of Spring 2023
One of Nerd Daily's Most Anticipated Books of 2023
One of Entertainment Weekly's Best New Books for Spring
One of Real Simple's Must-Read Books of Summer
One of Today.com's Most Ancitipated Books of 2023
One of New York Post's Best New Books
One of Reader's Digest's Most Anticipated Summer Books
One of BookRiot's Best New Books of May
One of Esquire's Best LGBTQ Books of 2023
"The Celebrants offers the combination of tears and laughs fans of Rowley, author of The Guncle, have come to expect." —Parade
"It's hard to think of a novelist who handles grief with more gentleness than Steven Rowley. . . . Rowley himself nails the vibe as 'four funerals and a wedding'. . . . Rowley's repartee is witty, and the importance of making sure those you love know how much they mean to you comes through on every page." —The Christian Science Monitor
"This novel is a newly minted New York Times bestseller—and for good reason. It's Steven Rowley's sharpest work to date, which is saying something, as his bibliography includes modern queer favorites like The Editor and The Guncle." —Esquire
"A Big Chill for our times . . . Funny, tender, and incredibly moving, [The Celebrants] is a life-affirming, powerful ode to friendship that will inspire you to reconnect with your own treasured friends." —Serendipity Magazine

"A little The Big Chill, a little St. Elmo's Fire, the kind of buddy book you want for the summer . . . Perfectly crafted, and author Steven Rowley packs a lot of characters in it while still leaving the tale uncomplicated." —Seattle Gay Times
"This funny, poignant, heartfelt novel is a testament to the importance of friendship, especially when life gets hard." —Good Housekeeping
"Witty . . . A tender reminder of the exigencies of life and the remarkable ability of happy memories to melt the years away." —Shelf Awareness
"Steven Rowley is one of those authors where if you read one of his novels, his name gets added to a mental 'TBR' (to-be read) list. That is, of course, if you love rich characters written with love and humor that you'd like to know in real life. Each of his books is so uniquely different in plot and beautifully told. . . . Rowley keenly taps into the vibe of old friendships. . . . People are craving connection now more than ever. Rowley's The Celebrants is not only a reminder of that, but a salve. Treat yourself, read this book, and call an old friend." —Associated Press
"From the author of The Guncle comes the ultimate story of friend goals. . . . Throughout this ode to good friends is lots of clever dialogue and some genuinely funny moments." —BookRiot
"Rowley has created such living, breathing characters that the heartbreaking truth—this is a book about a character's impending death—is truly heartbreaking. . . . I kept Kleenex in business while reading this book, but I also laughed a whole lot. It's the sort of heartwarming story that makes me want to ring up my pals for a much-needed visit." —Reader's Digest (Editor's Pick)
"This heartwarming coming of age story follows a group of five college friends all about to enter their 50s….Alternating between the present day gathering and previous 'funerals' from past years, you'll grow attached to these characters…and when you finish, you'll want to go hug your BFFs." —The Skimm

"The Celebrants is very much about being alive. It's marketed as a modern-day The Big Chill, but it's stirred together with a streak of Gen X independence, a pour of wry humor, some St. Elmo's Fire feels and a loud reminder to live boldly….It's a book that will inspire you to gather your friends and revel in the now." —The Washington Post
"'Big Chill, but make it Gen X-y and at least 30% more gay': That's one potential logline for the fizzy, emotionally intelligent latest from Guncle author Rowley." —Entertainment Weekly
"Heartbreaking and heartwarming all at once." –Country Living
"Touch[es] on family, friendship, love and navigating issues in a funny, smart way." —GMA.com
"Rowley's novels deftly oscillate between tear-jerker and knee-slapper, books that brim with all of life's big and small emotions, and his latest is no exception. It might just be his best yet." —Electric Lit
"Rowley once again displays his talent at balancing humor and heart in surprising ways." —Buzzfeed

"Equal parts contemplative, heartfelt. . . The book not only serves as a reminder that life is indeed short, but also pays tribute to the healing power of friendship in times of great upheaval or loss. . . . Plenty of funny surprises . . . A truly heartrending yet convincingly uplifting conclusion . . . Unforeseen bombshells at just the right moments, and [Rowley's] gift for taking some of life's most challenging roadblocks and turning them into opportunities for hope and genuine connection . . . What we're left with is a recipe for embracing life and all that comes with it by looking death in the eye and moving forward." —San Francisco Chronicle
"Deeply moving, build with both heart and humor, and addresses the deepest challenges of life." —Alta
"A delightful poolside or beachfront vacation. Funny, tender and achingly nostalgic." —Reader's Digest

"The author of The Guncle brings his signature humor and warmth to life's inevitable passages and the value of friendships over time." —The Washington Post

"A humorous yet moving story about identity and friendship." —The EveryGirl
"A superbly crafted narrative about five college friends who make a unique pact. . . . Beautifully written and culminating in a phenomenally well-realized concluding set-piece, Rowley's tale wonderfully captures how deeply important friendships are. . . . This is a life-affirming work, one that is both hilarious and richly affecting, with an unforgettable cast of engaging characters that readers will wish they could spend more time with." —Booklist (starred review)
"Rowley offers another winning story of a friend group held together by an unusual bond. . . . Genuinely heartfelt . . . Rowley admirably avoids sentimentality along the way, and there's plenty of fresh and witty dialogue. For anyone needing a reminder about the importance of friendships, this will more than do the trick." —Publishers Weekly
 
"An updated Big Chill . . . hitting many of the same sweet and melancholy notes around aging, death, love, and the shorthand old friends have with each other." —Kirkus Reviews

"Steven Rowley is an auto-buy, and his latest novel, The Celebrants, is a testament to his trademark humor and grace. A thoughtful, heartbreaking, funny novel about love, marriage, grief, and friendship." —Laura Dave, author of The Last Thing He Told Me
"The Celebrants made me laugh and cry...and make some overdue phone calls to old friends. A timely examination of why connections matter and a powerful ode to friendship. We should all have such a pact." —Shelby Van Pelt, author of Remarkably Bright Creatures

"What can stave off the fear of death, or rescue you from one of life's less fatal heartbreaks? Steven Rowley, ever warm and witty, offers up lifelong friendship, and I am inclined to believe him." —Emma Straub, author of All Adults Here and This Time Tomorrow
"A tender, funny, bittersweet exploration of friendship, family, joy, grief, and what it means to be alive. I loved everything about it." —Allison Winn Scotch, author of The Rewind