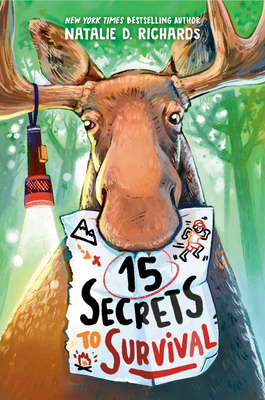 15 Secrets to Survival
Publication Date:
November 7th, 2023
Publisher:
Delacorte Press
Usually Ships in 1 to 5 Days
Description
New York Times bestselling author Natalie D. Richards's middle grade debut about a group of four classmates forced to navigate the wilderness for an extra credit project with nothing but the pages of a survival handbook—and each other—to save them. 

When classmates Baxter, Abigail, Turner and Emerson break a school rule, they're forced to travel to the middle of nowhere for an extra credit project. They think things can't get much worse. After all, how will learning to survive in the wilderness help them stay out of trouble in school?
   What starts off as a weekend of team building takes a scary turn when their instructor goes missing and they are given nothing but pages of a survival guide to complete a series of challenges.
     They soon learn the woods around them have unexpected surprises. Will they discover a way to work together to find their teacher and overcome the dangers of winter in the mountains?
     A recommended choice for classroom discussions on earth science and educators looking for survival books for kids.
Praise for 15 Secrets to Survival
"Excellent characterization, rich details, and an exciting setting bring every harrowing adventure to life as the kids learn the value of working together, and the value of one another's strengths and passions." —School Library Journal
"The narrative presents believable moments of danger infused with the protagonists' unwillingness to cooperate and a well-crafted realization of individual strengths, weaknesses, and friendship....Both exciting and revelatory." —Kirkus Reviews
"[A] fast-paced adventure that features a charging moose, potential hypothermia, and plenty of friendship drama." —Publishers Weekly