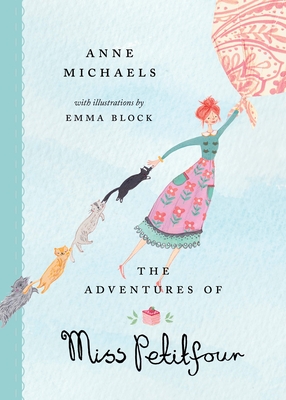 The Adventures of Miss Petitfour
Publication Date:
March 27th, 2018
Description
The magical adventures of an eccentric Mary Poppins-esque heroine and her flying feline charges, sure to charm readers big and small. The first book for children by an internationally acclaimed novelist and poet.
     Miss Petitfour enjoys having adventures that are "just the right size - fitting into a single, magical day." She is an expert at baking and eating fancy iced cakes, and her favorite mode of travel is par avion. On windy days, she takes her sixteen cats out for an airing: Minky, Misty, Taffy, Purrsia, Pirate, Mustard, Moutarde, Hemdela, Earring, Grigorovitch, Clasby, Captain Captain, Captain Catkin, Captain Cothespin, Your Shyness and Sizzles. With the aid of her favorite tea party tablecloth as a makeshift balloon, Miss Petitfour and her charges fly over her village, having many little adventures along the way. Join Miss Petitfour and her equally eccentric felines on five magical outings -- a search for marmalade, to a spring jumble sale, on a quest for "birthday cheddar", the retrieval of a lost rare stamp and as they compete in the village's annual Festooning Festival. A whimsical, beautifully illustrated collection of tales that celebrates language, storytelling and small pleasures, especially the edible kind!
Praise for The Adventures of Miss Petitfour
Starred in CCBC'S Best Books for Kids & Teens (2016)
Selection 2018 – BookRiot 50 Must-Read Canadian Children's and YA Books
"Its comedic irreverence and spirited play with words, names, and pirate lore will remind readers of Mary Poppins and Pippi Longstocking. Children will savor the whimsical language and conversational tone as well as the nameless village with its wordless wooden signs." —STARRED REVIEW, School Library Journal
"Block's charming, full-color illustrations complement the tales in a decidedly mid-20th-century modern style . . . An homage to classic fantasies for an audience willing to suspend all disbelief and just go along for the ride." —Kirkus Reviews
"In her first children's book, adult author Michaels presents five stories driven equally by whimsy and self-aware humor . . . Michaels is fond of digressions, one of many vocabulary words she highlights as the narrative comments on the peculiarities of storytelling . . . Block's delicate color illustrations are ideally suited to Miss Petitfour's subdued and decidedly eccentric adventures, which involve everything from an empty marmalade jar to a lost stamp." —Publisher's Weekly

"Toronto's new poet laureate is known for her moody adult poetry and fiction, so it came as a surprise when her kidlit debut turned out to be a fun and whimsical confection of sweet stories about a young woman and her 16 cats who take to the sky using a tablecloth as a sort of non-hot air balloon. Full of delightful language that skips and lilts off the page and the tongue, Michaels's first book for kids might even be better than the stuff she writes for adults." —Quill & Quire
"The Adventures of Miss Petitfour is a sweet and witty little book, great for kids who already love tea parties, arts and crafts and cats, and those who have yet to discover life's smaller pleasures." —Canadian Children's Book News