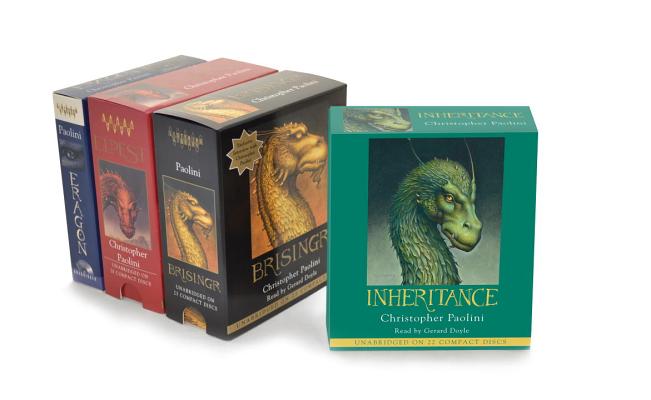 The Inheritance Cycle Audiobook Collection
Publication Date:
November 8th, 2011
Publisher:
Listening Library
Description
Gerard Doyle vividly re-creates the world within Christopher Paolini's bestselling Inheritance Cycle in this superbly narrated set of audiobooks. The 4-story Inheritance Cycle bundle includes Eragon, Eldest, Brisingr, and Inheritance for over 95 hours of listening pleasure.
Eragon (14 CDs):
Fifteen-year-old Eragon believes that he is merely a poor farm boy–until his destiny as a Dragon Rider is revealed. Gifted with only an ancient sword, a loyal dragon, and sage advice from an old storyteller, Eragon is soon swept into a dangerous tapestry of magic, glory, and power. Now his choices could save–or destroy–the Empire.
Eldest (20 CDs):
Eragon and his dragon, Saphira, have just saved the rebel state from destruction by the mighty forces of King Galbatorix, cruel ruler of the Empire. Now Eragon must travel to Ellesmera, land of the elves, for further training in the skills of the Dragon Rider: magic and swordsmanship. Soon he is on the journey of a lifetime, his eyes open to awe-inspiring new places and people, his days filled with fresh adventure. But chaos and betrayal plague him at every turn, and nothing is what it seems. Before long, Eragon doesn't know whom he can trust.
Brisingr (23 CDs):
Following the colossal battle against the Empire's warriors on the Burning Plains, Eragon and his dragon, Saphira, have narrowly escaped with their lives. Still there is more at hand for the Rider and his dragon, as Eragon finds himself bound by a tangle of promises he may not be able to keep. Can this once simple farm boy rise to become the leader he must be in order to unite the rebel forces and defeat the King?
 
Inheritance (22 CDs):
Not so very long ago, Eragon—Shadeslayer, Dragon Rider—was nothing more than a poor farm boy, and his dragon, Saphira, only a blue stone in the forest. Now the fate of an entire civilization rests on their shoulders. Long months of training and battle have brought victories and hope, but they have also brought heartbreaking loss. And still, the real battle lies ahead: they must confront Galbatorix. When they do, they will have to be strong enough to defeat him. And if they cannot, no one can. There will be no second chances. The Rider and his dragon have come further than anyone dared to hope. But can they topple the evil king and restore justice to Alagaësia? And if so, at what cost? This is the much-anticipated, astonishing conclusion to the worldwide bestselling Inheritance Cycle.