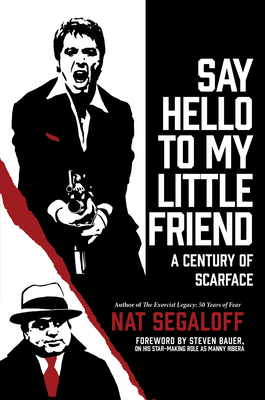 Say Hello to My Little Friend: A Century of Scarface
Publication Date:
October 24th, 2023
Usually Ships in 1 to 5 Days
Description
Celebrating the 40th anniversary of Scarface starring Al Pacino—Brian DePalma's 1983 gangster film that shook the world, shocked the critics, and shot bullet holes through the American Dream—this explosive Hollywood tell-all charts not only the phenomenon of this controversial classic but also the equally controversial legacy of the original 1932 Scarface that inspired it . . .
WITH A FOREWORD FROM STEVEN BAUER
How many movies in the history of film have truly shaken society? Scarface did it twice.
When Brian DePalma's operatically violent and profane Scarface debuted in 1983, the film drew almost as much fire as the relentless gunfire in the film itself. Starring Al Pacino as Cuban refugee-turned-crime-boss Tony Montana, Steven Bauer as his best friend Manny, and rising star Michelle Pfeiffer as an Eighties gangster's moll, the movie was a remake of 1932's Scarface—revamped for a new era of drugs, sex, and graphic violence. Attacked as both a celebration of cocaine-fueled excess and a condemnation of it, the film's reputation only grew as the years went by. But the real story of its success started nearly a century ago—when Hollywood first fell in love with the American gangster . . .
Hollywood's infatuation with money, power, and organized crime has captured the public's imagination and made Scarface one of its most enduring modern myths. From a 1912 gangster film by D.W. Griffith to the 1932 hit Scarface starring Paul Muni, to Brian DePalma's 1983 shocker, the antihero's rise and fall exposes the dark side of the American Dream—whether it's Prohibition Era bootleggers or modern-day drug dealers. When actor Al Pacino got the idea of doing a remake of Scarface after screening the original, a legend was (re)born—and the rest is history.
Filled with behind-the-scenes anecdotes, untold tales from Old and New Hollywood, and sixteen pages of eye-popping photos, Say Hello to My Little Friend is the ultimate guide to everything Scarface. With guns blazing and chainsaws whirring, movie biz writer Nat Segaloff tears into this pop culture phenomenon with fascinating insights, stunning revelations, and a true fan's glee. This is a must-have book for movie buffs, crime lovers, and culture vultures everywhere.
"Brilliant. One of my favorite films. So many ways to look at it. So much I didn't know. Nat Segaloff is that rare film scholar: as entertaining as he's informative." —David Morrell, New York Times bestselling author of First Blood (Rambo) on Say Hello to My Little Friend
Praise for Say Hello to My Little Friend: A Century of Scarface
Praise for Say Hello to My Little Friend: A Century of Scarface

"A decade after establishing himself as an intensely low-key version of the American gangster as Michael Corleone in The Godfather, Al Pacino created a legendary role of a different sort in Brian De Palma's high-octane 1983 remake of the 1932 gangster drama Scarface. Veteran film writer Nat Segaloff's Say Hello to My Little Friend marinates in the merging of massive egos in a high-stakes context but also offers digressions into the history of the Cuban drug trade and the evolution of the American dream by way of the criminal underground. Mr. De Palma's Scarface was a box office bomb upon its release, but as a brute-force commentary on unhinged avarice, it has taken on mythic dimensions in the 40 years since its release. Mr. Segaloff rhapsodically captures the manic appeal of a once-reviled and now fetishized gangland odyssey." —The Wall Street Journal

"Brilliant. One of my favorite films. So many ways to look at it. So much I didn't know. Nat Segaloff is that rare film scholar: as entertaining as he's informative." —David Morrell, New York Times bestselling author of First Blood (Rambo)

"Nat Segaloff, noted film historian, author, and veteran show business insider, has struck gold with Say Hello to My Little Friend: A Century of Scarface. There is nothing in this fascinating tome that is not addressed in this in-depth study of both the 1932 version and the 1983 remake. Whether discussing the social aspects surrounding the films and the circumstances of their creation, or the people and production involved, Nat Segaloff delves deep to unearth it all in startling detail. It's surprising it hasn't been before, but thankfully it took an entire century to get it right. A must-have for any and all fans of great reportage." —Dwayne Epstein, New York Times bestselling author of Lee Marvin: Point Blank and Killin' Generals: The Making of The Dirty Dozen, the Most Iconic WWII Movie of All Time

"Not content with tracing the origins, production, reception, and legacy of Howard Hawks's film and Brian De Palma's remake with an incredible wealth of detail, Nat Segaloff takes digressions into the history of the main players, Prohibition, the cocaine trade, and many other subjects, always in a concise and entertaining manner. For all these reasons, Say Hello to My Little Friend is the ultimate all-in-one guide on Scarface that will teach you everything and more." —Laurent Vachaud, co-author of De Palma on De Palma

"Al Pacino fans will devour this book. It identifies Scarface as the driving force behind Pacino's evolution as a star. The analysis of his Tony and Paul Muni's Tony in the first Scarface is fascinating, as are all of Segaloff's stories about the Mob and how it infiltrated Hollywood during the film industry's golden age." —Robert Hofler, author of The Way They Were and The Man Who Invented Rock Hudson