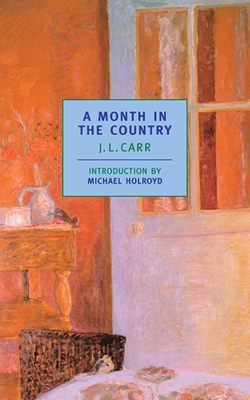 A Month in the Country
Publication Date:
October 31st, 2000
Usually Ships in 1 to 5 Days
Description
A short, spellbinding novel about a WWI veteran finding a way to re-enter—and fully embrace—normal life while spending the summer in an idyllic English village.  
In J. L. Carr's deeply charged poetic novel, Tom Birkin, a veteran of the Great War and a broken marriage, arrives in the remote Yorkshire village of Oxgodby where he is to restore a recently discovered medieval mural in the local church. Living in the bell tower, surrounded by the resplendent countryside of high summer, and laboring each day to uncover an anonymous painter's depiction of the apocalypse, Birkin finds that he himself has been restored to a new, and hopeful, attachment to life. But summer ends, and with the work done, Birkin must leave. Now, long after, as he reflects on the passage of time and the power of art, he finds in his memories some consolation for all that has been lost.
Praise for A Month in the Country
"Unlike anything else in modern English Literature." — The Spectator
"Carr's blessedly small tale of lost love is also a small hymn about art and the compensating joy of the artist, both in giving and receiving. It stays with us, too, and is oddly haunting." — The New Yorker
"Amazingly beautiful: so perfect, so exquisite! …The nuance and small moments that make up this gorgeous little novella are breathtaking, and the quiet, spare story will completely invade you. Brilliant!" —Dianah H, Powell's City of Books blog  
"Carr has the magic touch to re-enter the imagined past." — Penelope Fitzgerald
"The work is virtually perfect, and written with a great deal of liveliness and wit." —Michael Wood
"A unique and special experience, a visit to a special time and place, deeply observed and portrayed in beautiful prose." — The Washington Post
"Carr's prose is spare, elegant and buoyed with wit; the idyllic countryside and its inhabitants are rendered in affectionate detail." — Publisher's Weekly
"A Month in the Country…is one of those perfect, precious novels that you want to loan to friends, buy all your relatives for Christmas and give to your latest paramour." — Eve Claxton, Time Out New York