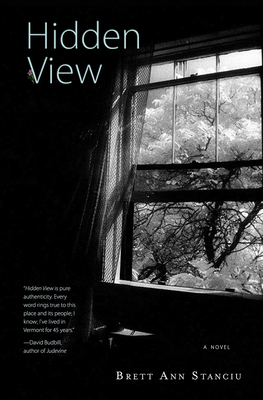 Hidden View
Publication Date:
November 9th, 2015
Publisher:
Green Writers Press
Description
Hidden View is a short novel set in the Vermont agrarian landscape, a story of Fern Hartshorn, unworldly, and unexpectedly pregnant at nineteen. Marrying an older man she barely knows, Fern begins her adult life on an isolated and hardscrabble farm named Hidden View.  Shortly after the birth of her daughter, the future of the farm is jeopardized by a family dispute over ownership between her husband and his brother, Lucien.  Unwillingly, Fern is torn between the two brothers, bound to Hal by marriage, child, and a modicum of economic stability, and to Lucien by companionship and a deepening desire.
This novel embodies the geography of Vermont.  The mountainous landscape suffuses the novel with its mark upon characters through spring mud, the lavish profusion of summer, winter's bitter starkness, and its constant, ineffable beauty.  Just as the landscape seasonally transforms, the characters of Hidden View reveal themselves through action and dialogue.  Thus, in a snowstorm, while a young child pleads for a toasted cheese sandwich, Fern struggles with her deteriorating marriage and rising desire for Lucien, struggling at the uniquely human place of how, and why, to choose her course.  Lyrically, the language and metaphors arise from the setting, complementing the novel's integrity. 
Hidden View's characters are vivid, written without disdain or cliché, distinctive to the setting of this Vermont farm and its particular family fracas.  The reader wants to know what happens to these people in their troubled lives.  The ending, while lucid, casts the reader back to the vagaries of life.  Fern writes, "I was so young then, so ripely full of blood and milk and desire and work.  I was so young I believed my heart might freeze and thaw and blossom.  How little I knew that cycle would repeat over and over and over, that our life, while brief and mortal, is also long and tedious and bound to the constraints of our weak flesh."  Therein lies the tension of Hidden View:  the corporal versus the spiritual world, and that in-between of human activity and choice.  On a small farm in Vermont, that story unfolds. 
Praise for Hidden View
"Human and engaging, with a great sense of place, and very elegantly written." — Howard Frank Mosher, Where the Rivers Flow North
"Hidden View is pure authenticity. Every word rings true to this place and its people; I know; I've lived here for 45 years." — David Budbill, Judevine