New Release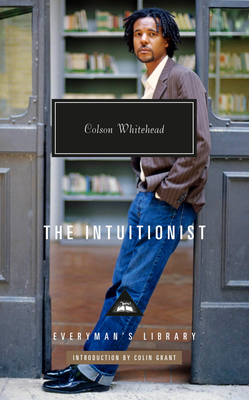 The Intuitionist: Introduction by Colin Grant (Everyman's Library Contemporary Classics Series)
Publication Date:
November 28th, 2023
Publisher:
Everyman's Library
Usually Ships in 1 to 5 Days
Description
A 25th anniversary hardcover edition of the debut novel by the two-time Pulitzer Prize–winning author of The Underground Railroad that wowed critics and readers and marked the emergence of an important American writer. EVERYMAN'S LIBRARY CONTEMPORARY CLASSICS.
It is a time of crisis in a major metropolitan city's Department of Elevator Inspectors, and Lila Mae Watson, the first black female elevator inspector in the history of the department, is at the center of it.  
There are two warring factions in the department: the Empiricists, who rely on tests and measurements; and the Intuitionists, who can intuit any defects merely by entering an elevator cab. Lila Mae is an Intuitionist, with the highest accuracy rate in the department. But when an elevator goes into freefall on her watch, chaos ensues. It's an election year, and the good-old-boy Empiricists would love nothing more than to blame an Intuitionist.
Meanwhile, startling excerpts from the lost notebooks of Intuitionism's founder, James Fulton, surface, describing Fulton's work on the "black box," a perfect elevator that could reinvent the modern city. When Lila Mae goes underground to investigate the crash, she is drawn into the search for the missing notebooks and uncovers a secret that will change her life forever.
Everyman's Library pursues the highest production standards, printing on acid-free paper, with full-cloth cases with two-color foil stamping, decorative endpapers, silk ribbon markers, European-style half-round spines, and a full-color illustrated jacket. Contemporary Classics include an introduction, a select bibliography, and a chronology of the author's life and times.
Look for Colson Whitehead's new novel, Crook Manifesto
Praise for The Intuitionist: Introduction by Colin Grant (Everyman's Library Contemporary Classics Series)
"Ingenious and starkly original." —The New York Times Book Review
 
"Magical . . . Ranks alongside Catch-22, V, The Bluest Eye, and other groundbreaking first novels . . . Whitehead shares Heller's sense of the absurd, Pynchon's operatic expansiveness and Morrison's deconstruction of race and racism." —San Francisco Chronicle
 
"The most engaging literary sleuthing you'll read this year . . . Extraordinary." —Newsweek
 
"Whitehead's prose is graceful and often lyrical, and his elevator underworld is a complex, lovingly realized creation." —The New Yorker