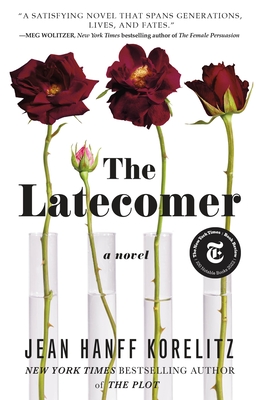 The Latecomer: A Novel
Publication Date:
June 6th, 2023
Usually Ships in 1 to 5 Days
I've been a big fan of Korelitz since her early works, butThe Latecomerblew me away. A clever book about a family and all its messiness. Smart, funny and poignant, I was pulled in by the novel's perfection. Bravo, more please!
June 2022 Indie Next List
Description
*A New York Times Notable Book of 2022*
*A Washington Post Notable Work of Fiction*
*An NPR Best Book of the Year*
*A New Yorker Best Book of 2022*
From the New York Times bestselling author of The Plot, Jean Hanff Korelitz's The Latecomer is a layered and immersive literary novel about three siblings, desperate to escape one another, and the upending of their family by the late arrival of a fourth.
The Latecomer follows the story of the wealthy, New York City-based Oppenheimer family, from the first meeting of parents Salo and Johanna, under tragic circumstances, to their triplets born during the early days of IVF. As children, the three siblings – Harrison, Lewyn, and Sally – feel no strong familial bond and cannot wait to go their separate ways, even as their father becomes more distanced and their mother more desperate. When the triplets leave for college, Johanna, faced with being truly alone, makes the decision to have a fourth child. What role will the "latecomer" play in this fractured family?
A complex novel that builds slowly and deliberately, The Latecomer touches on the topics of grief and guilt, generational trauma, privilege and race, traditions and religion, and family dynamics. It is a profound and witty family story from an accomplished author, known for the depth of her character studies, expertly woven storylines, and plot twists.
Praise for The Latecomer: A Novel
"Jean Hanff Korelitz is an ambidextrous writer: not only can she write a tight and absorbing literary thriller like The Plot, but with The Latecomer she draws us in again, this time with her ease, grace and wit, in a satisfying novel that spans generations, lives, and fates."
—Meg Wolitzer, The New York Times bestselling author of The Female Persuasion
"If this novel is funny, it is also cutting, a nearly forensic study of family conflict. Husband and wife are at odds; children pull away not only from their parents but from one another. Nimbly, Korelitz juggles the stories of each parent and child, weaving a tapestry of secrets, antipathies and private quests. ... It's testament to Korelitz's achievement that her novel leaves us wanting more."
—New York Times Book Review
"By the time we're done with these siblings, their lives have been turned inside out, and all their stored-up junk and secret treasures have been sorted, culled and curated for this immensely enjoyable sojourn with a truly memorable family."
—Ron Charles, The Washington Post, "Jean Hanff Korelitz's 'The Latecomer' offers wit in triplicate"
"It's a marvelous story full of plot twists, intricacies, and depth in events that the reader will not see coming. Perfect for fans of character-based novels such as those by Sally Rooney or Lauren Groff."
—Library Journal
"Korelitz (The Plot) returns with an irresistible dramedy of errors about a singularly unhappy family. This is a sizzler."
—Publishers Weekly, STARRED Review
"It's a slow burn, but this complex and layered story of the Oppenheimer family is worth hanging on...."
—Good Housekeeping, "The 30 Best and Most-Anticipated Books of 2022 (So Far)"
"An ingenious family epic."
—Oprah Daily
"[A] dazzling work of literary excellence from master of the written word Jean Hanff Korelitz."
—Good Morning America, "15 new reads to add to your reading list this month"
"Korelitz (The Plot) enthralls once again with this delicious family saga."
—PEOPLE
"The author of "The Plot" returns with a novel that skewers privilege and offers delights on every page."
—Oprah Daily