New Release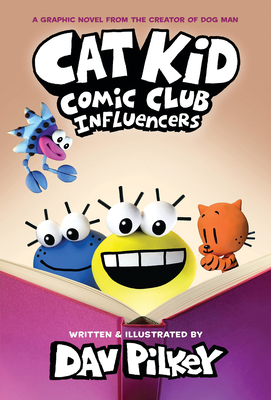 Cat Kid Comic Club: Influencers: A Graphic Novel (Cat Kid Comic Club #5): From the Creator of Dog Man
Publication Date:
November 28th, 2023
Usually Ships in 1 to 5 Days
Description
The newest graphic novel in the #1 bestselling series by Dav Pilkey, the author and illustrator of Dog Man!
The Cat Kid Comic Club is in crisis! After learning that one of their comics will be published, the baby frogs are filled with anxiety and doubt. How will they get their creative groove back? Will Naomi or Melvin emerge as a leader? Will Flippy convince them to finally straighten up and fly right?
The story is hysterical, thought-provoking, and full of action-packed mini-comics: "Frogzilla vs. Mechafrogzilla," "I Am Dr. Fredric Wertham," "Two Birds," and "RoboChubbs." Bestselling author-illustrator Dav Pilkey shows the reader that the best way to influence people is to be open, gentle, and kind. The variety of art styles, paired with Pilkey's trademark storytelling and humor, inspires imagination and innovation for readers of all ages.
For more hilarity and heart, dive into the newest graphic novel in the Dog Man series: Dog Man: Twenty Thousand Fleas Under the Sea. And don't forget the series that started it all: Captain Underpants! A new edition of The Adventures of Captain Underpants includes a brand new Dog Man comic!
Praise for Cat Kid Comic Club: Influencers: A Graphic Novel (Cat Kid Comic Club #5): From the Creator of Dog Man
Praise for Cat Kid Comic Club:
★ "Downright moving... it's a heartfelt celebration." -- Publishers Weekly, starred review
★ "Colorful, compelling, and laugh-out-loud funny." -- School Library Journal, starred review
★ "Wise, funny, and whiplash inducing: Pilkey delivers again." -- Kirkus Reviews, starred review