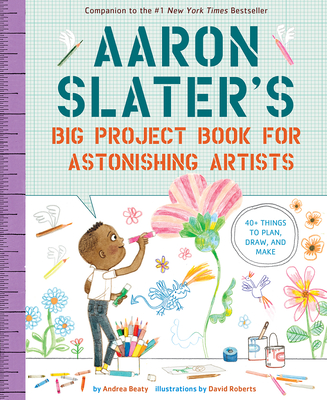 Aaron Slater's Big Project Book for Astonishing Artists (The Questioneers)
Publication Date:
October 25th, 2022
Publisher:
Abrams Books for Young Readers
Usually Ships in 1 to 5 Days
Description
Aaron Slater's Big Project Book for Astonishing Artists is an inspiring, hands-on book about art, creativity, and how we see the world—featuring the newest Questioneer—from New York Times bestselling creators Andrea Beaty and David Roberts.
 
Make art of all sorts in this project book from the team behind the bestselling Questioneers series. Aaron Slater shows readers how art is everywhere in our world—from the famous paintings and photographs that we know so well to places you may not think as much about, like on stamps or coins—and encourages them to make art of their own based on what they see.
 
More than 40 activities will help to spark creativity, encourage curiosity, and show some of the traits most important to being an artist: being observant, being persistent, and being flexible. From coloring pages to drawing prompts to instructions on how to make your very own puppet show and so much more, this project book encourages and uplifts the youngest artists and creators of tomorrow.
 
Become an astonishing artist, like Aaron Slater:
Draw a self-portrait
Read about famous artists throughout history
Create your own flipbook animation
Design labels for your favorite foods
Learn about the different elements of art, like color and shadow
Make your own puppet show
And much more!
 
 
"This volume covers a lot with fewer than 100 pages: art history, art method, art instruction, and artmaking, all while presenting an inclusive and diverse story of art and artists across time. It's great!" —School Library Journal
 
Check out all the books in the Questioneers Series:
The Questioneers Picture Book Series: Iggy Peck, Architect | Rosie Revere, Engineer | Ada Twist, Scientist | Sofia Valdez, Future Prez | Aaron Slater, Illustrator | Lila Greer, Teacher of the Year
The Questioneers Chapter Book Series: Rosie Revere and the Raucous Riveters | Ada Twist and the Perilous Pants | Iggy Peck and the Mysterious Mansion | Sofia Valdez and the Vanishing Vote | Ada Twist and the Disappearing Dogs | Aaron Slater and the Sneaky Snake
Questioneers: The Why Files Series: Exploring Flight! | All About Plants! | The Science of Baking | Bug Bonanza! | Rockin' Robots!
Questioneers: Ada Twist, Scientist Series: Ghost Busted | Show Me the Bunny | Ada Twist, Scientist: Brainstorm Book | 5-Minute Ada Twist, Scientist Stories
The Questioneers Big Project Book Series: Iggy Peck's Big Project Book for Amazing Architects | Rosie Revere's Big Project Book for Bold Engineers | Ada Twist's Big Project Book for Stellar Scientists | Sofia Valdez's Big Project Book for Awesome Activists | Aaron Slater's Big Project Book for Astonishing Artists
Praise for Aaron Slater's Big Project Book for Astonishing Artists (The Questioneers)
"This volume covers a lot with fewer than 100 pages: art history, art method, art instruction, and art-making, all while presenting an inclusive and diverse story of art and artists across time. It's great!" 
— School Library Journal