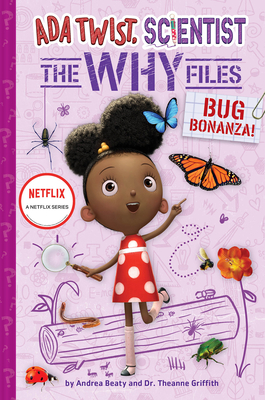 Bug Bonanza! (Ada Twist, Scientist: Why Files #4) (The Questioneers)
Publication Date:
March 7th, 2023
Usually Ships in 1 to 5 Days
Description
Bug Bonanza! is the fourth book in a nonfiction early-reader series about simple science concepts starring Ada Twist, Scientist, spun-off from Andrea Beaty's New York Times bestselling Questioneers series and the hit Netflix show—cowritten by neuroscientist Dr. Theanne Griffith.
 
How do bees fly? Why does a spider weave a web? And why are bugs so important to our world?
 
Ada Twist, Scientist: The Why Files is the perfect nonfiction resource for all these questions pondered by the youngest scientists of tomorrow, as they learn along with Ada. Designed in a scrapbook format, these books combine art from the Netflix show, illustrations, and photography to bring simple science concepts to life.