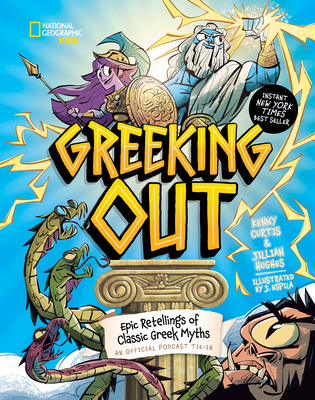 Greeking Out: Epic Retellings of Classic Greek Myths
Publication Date:
September 19th, 2023
Publisher:
National Geographic Kids
Usually Ships in 1 to 5 Days
Description
From the creators of National Geographic Kids' wildly successful Greeking Out podcast, this New York Times best-selling tie-in book delivers a clever tongue-in-cheek retelling of 20 classic Greek myths.
This kid-friendly collection of tales from Greek mythology showcases familiar favorites from the well-loved Greeking Out podcast as well as brand-new, never-before-aired stories. Join Persephone on her journey through the mystifying depths of the Underworld. Venture onwards with Heracles as he tackles his 12 death-defying labors. And join mythological figures you may not have heard of before, including scheming gods and goddesses, honorable—and not so honorable—heroes, and magnificent monsters.
Dynamic, playful illustrations coupled with laugh-out-loud storytelling and real information about ancient Greece—delivered by the all-knowing Oracle of Wi-Fi—make this collection of fabulous fables a fresh addition to any history-lover's library.