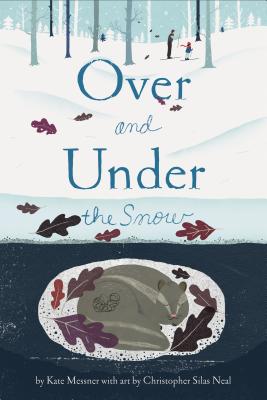 Over and Under the Snow
Publication Date:
September 9th, 2014
Publisher:
Chronicle Books
Usually Ships in 1 to 5 Days
Description
A wonderful winter book for kids from the author and illustrator of the beloved Over and Under series, now in paperback!
Part of the acclaimed nature book series that includes Over and Under the Pond, Over and Under the Rainforest, and Up in the Garden and Down in the Dirt, this volume takes readers on a cross country ski trip through the winter woods to discover the secret world of animals living under the snow.
Over the snow, the world is hushed and white. But under the snow lies a secret world of squirrels and snow hares, bears and bullfrogs, and many other animals making their winter home under the snow. This beloved nonfiction picture book reveals the tunnels and caves formed beneath the snow but over the ground, where many kinds of animals live through the winter, safe and warm, awake and busy, but hidden beneath the snow. 
ENCHANTING AND EDUCATIONAL: A charming story and beautifully rendered illustrations invite readers of all ages to explore and learn about the "subnivean zone" (the space between the colder snow and the warmer ground) where many animals live in the winter, opening a fascinating window into the natural world.
A DIFFERENT KIND OF HIBERNATION BOOK FOR KIDS: While there are many wonderful books depicting animals' preparations for winter (including, for some, a long winter's nap), Over and Under the Snow gives a unique peek into the busy daily lives of many types of forest creatures once winter is upon them.
GREAT SET OF NATURE BOOKS FOR PRESCHOOL: The five-book series by author Kate Messner and illustrator Christopher Silas Neal is a wonderful addition to any classroom or home library, sure to delight curious toddlers and emerging young readers.
Perfect for:
Fans of the Over and Under series
Kids who love winter and animals, including rabbits, squirrels, foxes, owls, frogs, and bumblebees
Baby shower, birthday, and holiday gift giving and year-round reading for nature enthusiasts
Readers who love The Snowy Day, The Story of Snow, A Loud Winter's Nap, and Goodbye Winter, Hello Spring