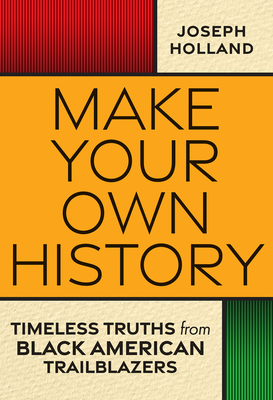 Make Your Own History: Timeless Truths from Black American Trailblazers
Publication Date:
October 24th, 2023
Usually Ships in 1 to 5 Days
Description
One hundred and twenty Black leaders, innovators, and entrepreneurs share their wisdom and experience across the centuries in Make Your Own History, an inspiring collection of exemplary Black voices—past and present, familiar and unsung—which have the power to guide us today.
Celebrating the vast breadth and scope of Black excellence, Make Your Own History spotlights the principles of success exemplified by the lives of 120 Black role models – from unsung heroes to renowned leaders – who have blazed trails throughout American history.
Make Your Own History gathers together motivational quotes, historical contexts, and enlightening precepts from Black trailblazers spanning the eighteenth century to the present. These insights encompass twelve central themes: courage, self-discipline, compassion, perseverance, teamwork, integrity, industriousness, self-reliance, optimism, purposefulness, civility, and faith. These vigorous virtues will:
*Deepen your courage through journalist Ida B. Wells' strategic activism in the face of professional and personal peril . . .
*Fuel your perseverance through tennis superstar Serena Williams' journey to 23 Grand Slam singles titles . . .
*Spark optimism through poet Langston Hughes' work as an artistic and intellectual catalyst for the Harlem Renaissance . . .
Through these perspectives and so many more, Make Your Own History serves not only as an uplifting historical resource, but also as a spiritual road map for the life-long journey of purposefully setting and meeting personal goals. These pioneers are more than historic examples of Black excellence; their unique lives highlight universal truths that will inspire all readers to achieve great success and make their own history.