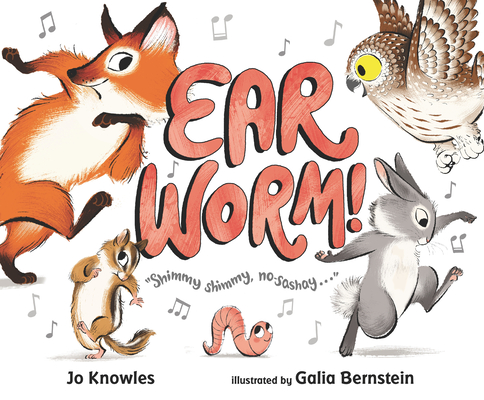 Ear Worm!
Publication Date:
January 25th, 2022
Usually Ships in 1 to 5 Days
Description
A musical treat for the ear and eye, this antic tale of a worm on a mission doubles as a cozy bedtime book.
One summer day, as Little Worm heads out to play, he discovers he has a song stuck in his head. "What's that you're singing?" Owl asks, but Little Worm can't say. He wriggles past, determined to learn who filled his head with "Shimmy shimmy, no-sashay." Owl flaps along with a song of his own, and before long Chipmunk, Bunny, and Fox fall in line, each contributing an ear worm to the joyful cacophony. Amid all the singing and dancing, Little Worm forgets his musical mystery until later when—surprise!—Papa Worm tucks him in. Hip, vintage-inspired illustrations and whimsical typesetting meet movement, sound play, and comic, cumulative delights in a picture book that will charm media-savvy children and their parents alike.
Praise for Ear Worm!
The easy repetition invites listeners to join in. . . . A rollicking read with a gentle bedtime closing.
—Kirkus Reviews
The abundance of unabashed, openhearted energy may remind readers of their own grooves. . . should prompt a chortle of recognition from kids and grown-ups alike.
—Publishers Weekly
This title may soon become a most-requested storytime favorite. Large, charming illustrations, created digitally, depict an enthusiastically singing and dancing troupe. The typeface changes position, size, and font, adding energy to the happy tale.
—Booklist
A delightful new picture book chock full of inventive lyrics and colorful, fun wildlife illustrations. . . . Lavishly illustrated, this title is sure to delight children and leave them with ear worms of their own.
—School Library Connection
This amusing read-aloud – its sweet ending making it the perfect bedtime story – is the picture book debut of Jo Knowles, author of many young adult and middle-grade novels. . . exuberant.
—The Buffalo News