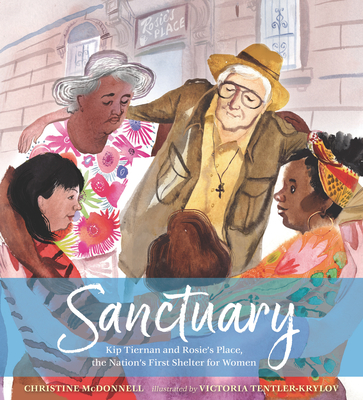 Sanctuary: Kip Tiernan and Rosie's Place, the Nation's First Shelter for Women
Publication Date:
March 1st, 2022
Usually Ships in 1 to 5 Days
Description
Before Kip Tiernan came along, the US had no shelters for women. Here is the inspirational story of a singular woman and what her vision and compassion have brought to life.
"Justice is not three hots and a cot. Justice is having your own key." —Kip Tiernan
When Kip Tiernan was growing up during the Great Depression, she'd help her granny feed the men who came to their door asking for help. As Kip grew older, and as she continued to serve food to hungry people, she noticed something peculiar: huddled at the back of serving lines were women dressed as men. At the time, it was believed that there were no women experiencing homelessness. And yet Kip would see women sleeping on park benches and searching for food in trash cans. Kip decided to open the first shelter for women—a shelter with no questions asked, no required chores, just good meals and warm beds. With persistence, Kip took on the city of Boston in her quest to open Rosie's Place, our nation's first shelter for women.
Christine McDonnell, a former educator at Rosie's Place, and illustrator Victoria Tentler-Krylov bring warmth to Kip Tiernan's story of humanity and tenacity, showing readers how one person's dream can make a huge difference, and small acts of kindness can lead to great things.
Praise for Sanctuary: Kip Tiernan and Rosie's Place, the Nation's First Shelter for Women
McDonnell's straightforward and informative text incorporates well-chosen quotes that further demonstrate her subject's iron-willed determination, questioning of the status quo ("Who decides who gets the condo and who gets the cardboard box?"), active listening, and deep empathy. . . Tentler-Krylov's (Building Zaha, rev. 3/21) watercolor and digital illustrations, featuring soft colors and rounded edges, emit warmth and beautifully depict the healing power of human connection.
—The Horn Book (starred review)
Author Christine McDonnell, who has taught English to immigrants at Rosie's Place, adeptly conveys the narrative arc of Tiernan's life. . . . Victoria Tentler-Krylov's atmospheric illustrations draw readers into Tiernan's surroundings with immediacy and emotion. . . . This thoughtful book conveys a powerful, important message: 'When you listen to others, you show respect; you learn who they are and what they need.'
—BookPage (starred review)
At each stage of Kip's journey, illustrations capture the mood. . . . A worthy social justice story about a compassionate woman who dedicated her life to helping others.
—Kirkus Reviews (starred review)
Tentler-Krylov contributes fluid, atmospheric illustrations, rendered in watercolor and digital media, that portray figures of varying ability, age, skin tone, and size, underscoring Tiernan's mission to help all in this compassionate narrative about the ambitious, accomplished social activist.
—Publishers Weekly