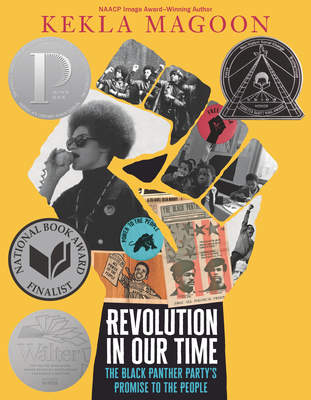 Revolution in Our Time: The Black Panther Party's Promise to the People
Publication Date:
August 8th, 2023
Usually Ships in 1 to 5 Days
Description
A National Book Award Finalist
A Coretta Scott King Author Award Honor Book
A Michael L. Printz Honor Book
A Walter Dean Myers Honor Book

With passion and precision, Kekla Magoon relays an essential account of the Black Panthers—as militant revolutionaries and as human rights advocates working to defend and protect their community.

In this comprehensive, inspiring, and all-too-relevant history of the Black Panther Party, Kekla Magoon introduces readers to the Panthers' community activism, grounded in the concept of self-defense, which taught Black Americans how to protect and support themselves in a country that treated them like second-class citizens. For too long the Panthers' story has been a footnote to the civil rights movement rather than what it was: a revolutionary socialist movement that drew thousands of members—mostly women—and became the target of one of the most sustained repression efforts ever made by the U.S. government against its own citizens.
Revolution in Our Time puts the Panthers in the proper context of Black American history, from the first arrival of enslaved people to the Black Lives Matter movement of today. Kekla Magoon's eye-opening work invites a new generation of readers grappling with injustices in the United States to learn from the Panthers' history and courage, inspiring them to take their own place in the ongoing fight for justice.
Praise for Revolution in Our Time: The Black Panther Party's Promise to the People
This comprehensive, meticulously researched volume helps readers understand the Panthers within the spectrum of Black resistance. The narrative is cinematic in its descriptions of the personalities and incidents that make up the party's history while presenting a throughline to the anti-racist activism of today. The book's attractive graphic design, with ample use of robin's egg blue in contrast to dramatic black-and-white photographs, and with memorable quotes scattered throughout, makes it visually pleasing. . . highly readable and not-to-be-missed.
—Kirkus Reviews (starred review)
In this powerful history, Magoon (Light It Up) presents an incisive, in-depth study of the Black Panther Party.
—Publishers Weekly (starred review)
Magoon has produced a comprehensive and all-encompassing account of the group. . . . Her history of the Black Panther Party is meticulously detailed. . . . Magoon goes beyond the dissolution of the Party to discuss life for Black Americans from 1982 to 2020, expertly drawing parallels between the Black Panther Party and the Black Lives Matter movement. . . invaluable for both individual and classroom reading.
—The Horn Book (starred review)
Exceedingly well researched, illustrated, and sourced. . . This rounded accounting of a pivotal but often-overlooked time in U.S. history should be widely read.
—Booklist (starred review)
Magoon offers an in-depth look at the Black Panthers that we've not really seen for young people—-one that is honest and offers a much-needed corrective. . . A must-have.
—School Library Journal (starred review)
Magoon delivers what may be her magnum opus—a complete history of the Black Panther Party (BPP) written from the viewpoint of an insider. . . . Her linear narrative writing style fits this work well. . . a must for students.
—School Library Connection (starred review)
Magoon, writing with clarity and accessibility, gives a full picture of an organization based in Black power, how it came to be, and how it has been purposely misrepresented in history books for decades. . . . a compelling portrait.
—The Bulletin of the Center for Children's Books
A must-read for anyone interested in fighting injustice, this courageous book takes readers beyond what we think we know and provides an objective and insightful view of our nation's history.
—NPR
Although Magoon covers decades, even centuries, of history, she does so with a straightforwardness and detail that makes this book a helpful resource for readers of every age.
—Vox
Kekla Magoon's fascinating, meticulously researched account of the Black Panther Party, liberally illustrated with photos and news clippings and other documentary material, is a National Book Award finalist and deserves wide readership for shining a spotlight on a movement that has much relevance to the present day.
—The Buffalo News
This important National Book Award finalist makes a compelling case: that the legacy of the Black Panther Party lives on in our endemic and enduring struggles to overcome systemic racism.
—The San Francisco Chronicle
Magoon does an outstanding job of exploring the reality that much of the group's power and movement came because of the dedication of Black women.
—Book Riot
An extraordinary and comprehensive history on the Black Panther Party.
—Ms. Magazine
Kekla Magoon is a national treasure, and Revolution in Our Time passionately and meticulously details a critical truth that is both feared and necessary in the classroom.
—Rita Williams-Garcia, award-winning author of A Sitting in St. James