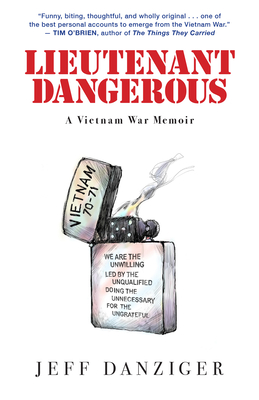 Lieutenant Dangerous: A Vietnam War Memoir
Publication Date:
July 6th, 2021
Description
"A must-read war memoir… with zero punches pulled, related by one of the most incisive observers of the American political scene." —KIRKUS (starred review)
 
"Funny, biting, thoughtful and wholly original." —Tim O'Brien, author of The Things They Carried

Jeff Danziger, one of the leading political cartoonists of his generation, captures the fear, sorrow, absurdity, and unintended but inevitable consequences of war with dark humor and penetrating moral clarity.

If there is any discipline at the start of wars it dissipates as the soldiers themselves become aware of the pointlessness of what they are being told to do.
 
A conversation with a group of today's military age men and women about America's involvement in Vietnam inspired Jeff Danziger to write about his own wartime experiences: "War is interesting," he reveals, "if you can avoid getting killed, and don't mind loud noises."
 
Fans of his cartooning will recognize his mordant humor applied to his own wartime training and combat experiences: "I learned, and I think most veterans learn, that making people or nations do something by bombing or sending in armed troops usually fails."
 
Near the end of his telling, Danziger invites his audience—in particular the young friends who inspired him to write this informative and rollicking memoir—to ponder: "What would you do? . . . Could you summon the bravery—or the internal resistance—to simply refuse to be part of the whole idiotic theater of the war? . . . Or would you be like me?"
Praise for Lieutenant Dangerous: A Vietnam War Memoir
"Lieutenant Dangerous is, the author notes, a "sad story, full of waste and loss." It's powerful. Put it next to Tim O'Brien's "The Things They Carried" on your bookshelf."
--Laurie Hertzel, The Minneapolis Star Tribune
An "important book . . . at times mordantly funny, at others sparking with anger."
--The Washington Post
"By turns funny, sad, horrifying, and thought-provoking . . . reads like a cross between Joseph Heller's Catch-22 and the television show M.A.S.H."
--The Christian Science Monitor
"As with his cartooning, Danziger pulls no punches with his description of his time in the service and Vietnam."
-- The Florida Times-Union
"A must-read war memoir . . . with zero punches pulled, related by one of the most incisive observers of the American political scene."
-- KIRKUS reviews (starred review)
"In clear language he [Danziger] describes both the horrors and absurdities of war and the toll it takes on a soldier.
-- The Rutland Herald
"Brilliant political cartoonist Jeff Danziger has written a crackerjack new book...The book is a rollicking, honest, cynical and, at times, tragic recollection of that dreadful and deceitful war."
-- Valley News
"Danziger's new book isn't merely a recollection of a tumultuous time in his youth; it also passionately engages our political situation now."
-- Seven Days

"Lieutenant Dangerous is a forthright, brutally honest memoir of one American's experiences during the time of the Vietnam War."
--The North Star Monthly

"Danziger's book is a note to the wise. You can forget about the Vietnam War. Certainly, the past cannot be recovered.  But it pays to be on guard not to repeat the same mistakes in the future. Danziger has written a fine book and it is well worth reading."
--Global Insights

"His book, which careens from political satire to wrenching personal history with a highly palatable dollop of social analysis, is as relevant today as it would have been when the events it describes were taking place."
--Who What Why
"Mr. Danziger be­longs to a gen­er­a­tion that was shaped by the war in Viet­nam and the po­lit­i­cal up­heaval it caused.  He has suc­ceeded in what he set out to do — to nar­rate one young man's jour­ney through the worst of that mael­strom.  And he has man­aged to set it all down with­out so much as a whiff of un­de­served nos­tal­gia.
--The Barton Chronicle
"Jeff Danziger's Lieutenant Dangerous is funny, biting, thoughtful and wholly original. This memoir instantly ranks among the best personal accounts to emerge from that war. I have encountered nothing quite like this wonderfully acerbic, go-for-the-jugular book."
--Tim O'Brien, author of The Things They Carried
"Most readers will know Jeff Danziger as a brilliant cartoonist. Lieutenant Dangerous shows that he is a brilliant writer as well. Full of mordant observations and absurdist escapades, this memoir of his army service reads like a real-life Catch 22 -- with Danziger as the Captain Yossarian of the Vietnam War. Lieutenant Dangerous joins the small shelf of must-read books for a sense of what it was really like to be a soldier in America's most unpopular war."
-- Max Boot, author of The Road Not Taken: Edward Lansdale and the American Tragedy in Vietnam
 
"From arguably the best political cartoonist this nation has ever produced...wow: words! And what words. Having spent a decade on the ground in Afghanistan, I can certify: this book applies directly to today's wars. Only, in the transition to an all-volunteer army, what may have disappeared from the ranks of our officers is this type of brutally honest skepticism."
-- Sarah Chayes, author of The Punishment of Virtue: Inside Afghanistan After the Taliban and On Corruption in America: And What Is At Stake

The Things They Carried, and Karl Marlantes' Matterhorn
--Tom Bodett, Author and radio anomaly
 
"Every West Point cadet should be required to read Lieutenant Dangerous, political cartoonist Jeff Danziger's powerful memoir about his four years in the army, when honor, integrity, and purpose were as illusory as American victory in Vietnam."
--David Cay Johnston Recipient of the Pulitzer Prize, an IRE Medal and the George Polk Award
 
"'I am not a weeper, but I sat on the bus to Ft. Dix and wept.' So begins Jeff Danziger's youthful journey to the center of America's Vietnam maelstrom. A 24 year-old Vermonter with a pregnant wife at home, Danziger experienced the full-on nightmare of the Army's Vietnam catastrophe. He saw everything combat -- death, hypocrisy, moral degradation, and the fervid futility of the mightiest nation on earth bested on the battlefield by men and women fighting in pajamas and loincloths. He saw everything, that is, except the nominal purpose of the conflict. There is no evidence of a shared cause with our South Vietnamese 'allies,' no evidence that American soldiers knew or cared about the Communist Threat, and no evidence of the proverbial quest for glory that theoretically animates military endeavors. War, he writes, is 'in an awful way, interesting, if you can avoid getting killed and don't mind loud noises.' Danziger's purpose is to inform, but he and we wonder what the story of the 55,000 squandered American lives has taught us. Then the jungle; now the desert. Then B-52s; now Predator drones. The more America's ill-informed interventions change, the more they stay the same."
--Alex Beam, author of Broken Glass and Gracefully Insane