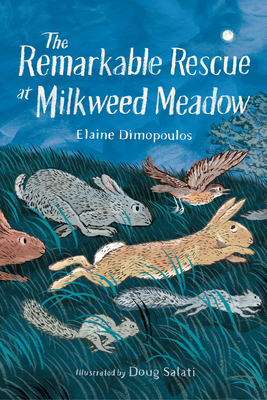 The Remarkable Rescue at Milkweed Meadow
Publication Date:
May 16th, 2023
Usually Ships in 1 to 5 Days
Description
This timeless early middle-grade adventure about friendship and community will charm animal-loving fans of The Tale of Despereaux and Clarice the Brave. Illustrated by Caldecott winner Doug Salati.
Butternut lives in the burrows of Milkweed Meadow with her nine rabbit brothers and sisters. Together they practice strategies for survival and tell stories. With disastrous scenarios blooming in her mind, Butternut embraces the lesson of her families' stories: stick to your own rabbit-kind. But after befriending an incorrigible robin and a wounded deer, Butternut begins to question what she has been taught. 
When the three friends discover other animals in crisis, Butternut must decide whether she can help, rally her friends and family, and be as brave as the heroes in the stories she tells.
Beautiful and arresting black-and-white illustrations bring the animals to life in this heartwarming story about friendship, community, and doing what is right.

"With the confidence of a maestro, Elaine Dimopoulos breathes vigor and beauty into a tale of a brave and thoughtful young rabbit . . . A chorus of woodland cheer for such a remarkable rescue."
—Gregory Maguire, author of Wicked and Cress Watercress
Praise for The Remarkable Rescue at Milkweed Meadow
A wild rabbit narrates a tale of friendship, bravery—and storytelling.
Young Butternut and her siblings receive an in-depth education from their mother, who in turn learned from Butternut's grandmother Sage, a wise, experienced rabbit who's determined to keep her family safe. Humor shines through as Butternut describes lessons in survival, storytelling, and grooming. Grandmother tells the younger rabbits that just as monarch butterflies have the advantage of eating milkweed (which makes them toxic and keeps them safe from predators), "Our milkweed is our brain power." Despite her family's misgivings, Butternut—known for her "brambles" (or anxiety) and storytelling prowess—befriends Piper, a baby robin who enjoys using alliteration. The duo soon start venturing out at night to help an injured fawn, and more adventures ensue as Butternut slowly learns that there are some things in life worth taking risks for. By the time of the titular rescue, a host of secondary characters have been introduced, including a bullying blue jay and a "little female human." Cleverly, the text uses Butternut's voice to point out literary devices and techniques as she tells her tale. Witty, engaging, and heartfelt, this novel compares favorably with Cynthia Voigt's gray squirrel odyssey, Toaff's Way (2018), expertly entwining actual, observed facts about wildlife with whimsical anthropomorphism. The charming illustrations complement the text and show the girl to be light-skinned.
Use your milkweed: Read this!
—Kirkus Reviews, starred review
An anxious young rabbit with a gift for storytelling narrates this intimately voiced, community-centered novel by Dimopoulos (Turn the Tide), which explores the value of crossing species lines and the bravery required to live in the world. When a birdseed-controlling blue jay eats a robin's egg in an act of retribution, Milkweed Meadow's young bunnies—taught to "stay alive" via brainpower and rigid rules—are told to "worry about the burrow-dwellers only." But young Butternut, an anxious rabbit who thrills at the stories recounted in her family's root room, wonders about the event's communal and long-term effects. Butternut soon meets a gregarious, newly fledged robin named Piper, and they encounter and befriend an injured fawn, acts that eventually lead to a cooperative rescue of creatures in dire need. As Butternut's world grows larger ("I'd performed a feat of athleticism. I'd met a young robin that spoke like an old poet"), her action-packed adventures with Piper underline the way that a survivalist mentality can come at the cost of a compassionate, connected, meaningful life. Occasional illustrations by Salati (Hot Dog), in graphite and gouache, elegantly depict wildlife scenes. Ages 8–11.
—Publishers Weekly, starred review
Members of the latest litter of rabbits in Milkweed Meadow have been brought up with strict instructions to only commune with their own kind. Grandmother Sage survived a harrowing ordeal when she was young, and she's raised inhabitants of the warren to prize their smarts and storytelling, which help them survive in a dangerous world. Butternut is a particularly anxious bunny (she refers to her worried thoughts as "mind brambles"), but she quietly begins to take risks when they are in service to other creatures, even befriending other neighborhood animals, including a chatty robin and an injured fawn. But Butternut is soon faced with a nearly impossible decision when a life is on the line: follow her upbringing and make the rational choice or risk her life with the compassionate one. The sparkling story is both terrifically funny and quietly contemplative, touching on heavy topics with a light hand and heaps of humor. Butternut narrates the proceedings at a brisk pace, and the occasional black-and-white graphite-and-gouache illustrations add appealing visual interest. The author has created a beautifully realized natural setting, and the story takes time to celebrate the joy in existence without shying away from some sobering realities of living as a wild creature. A marvelous reminder of the power in stories and the thrill in determining one's own destiny.
—Booklist, starred review
"Bird affairs are not rabbit affairs," says Butternut's mother. But when the young rabbit meets Piper, and outgoing and adventurous fledgling robin, she starts connecting with other animals in Milkweed Meadow and finding the world less frightening. Butternut directly addresses readers, dropping carrots of wisdom about story structure and life. "Life-and-death stakes might enhance a story, but they were terrifying to live through." The animal characters are anthropomorphized, but they retain core species characteristics and behaviors; some readers may even recognize the dynamics of wildlife interactions around the bird feeder near Butternut's den. Salati's (Hot Dog, rev. 11/22) textured black-and-white illustrations mirror this blend of realism and fantasy. The animals' faces are expressive, but they look like animals, especially in their body language. When Butternut has to decide whether or not to risk her safety to attempt the rescue she's been foreshadowing since the first sentence of chapter one, no one will be surprised. But how it happens is "a wood-gnawing climax," as Butternut's grandmother would say. This chapter book has a relatively rare and welcome level of depth, and the strong narrative voice, ecological awareness, and themes around the value of connection and community will call to many readers.
—The Horn Book
It's a big, scary world for young Butternut the bunny, who lives with her family in the burrows of idyllic Milkweed Meadow. Under the cautios head of the family, Grandmother Sage, Butternut's family lives a careful life isolated from other animals. Each night in the burrow, family members take turns sharing stories; Butternut's are the best. So it's a bitter pill for her when a brave excursion results in her mother and grandmother forbidding her to share the tale. But Butternut makes new stories and shares them with listeners outside of the rabbit family. She finds friends in the other meadow-dwellers and realizes she might be braver than she thought—maybe brave enough to pull off a remarkable rescue. This enchanting animal adventure is made up of a series of interconnected short stories. In a beautiful narrative voice, and brought to life by Salati's charming black-and-white illustrations, Butternut describes her own storytelling process. Younger and still developing readers could find this one too challenging to be an independent read. VERDICT Sure to hold appeal to the animal lovers, this would make an excellent read-aloud, especially if the audience is working on learning the elements of storytelling.
—School Library Journal