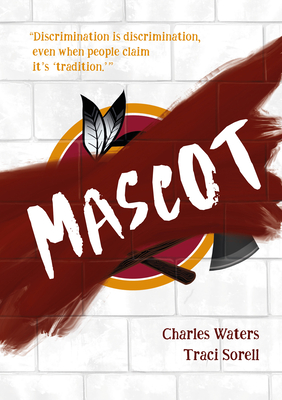 Mascot
Publication Date:
September 5th, 2023
Usually Ships in 1 to 5 Days
A nuanced examination of Native American imagery in mascots makes this novel in verse shine. Readers will find inspiration to stand up for what they feel is right, while also understanding that controversies are rarely black and white.
September/October 2023 Kids Indie Next List
Description
What if a school's mascot is seen as racist, but not by everyone? In this compelling middle-grade novel in verse, two best-selling BIPOC authors tackle this hot-button issue.
In Rye, Virginia, just outside Washington, DC, people work hard, kids go to school, and football is big on Friday nights. An eighth-grade English teacher creates an assignment for her class to debate whether Rye's mascot should stay or change. Now six middle schoolers–-all with different backgrounds and beliefs–-get involved in the contentious issue that already has the suburb turned upside down with everyone choosing sides and arguments getting ugly. 
Told from several perspectives, readers see how each student comes to new understandings about identity, tradition, and what it means to stand up for real change.
"Waters and Sorell's plain spoken verse is always sharp and direct." —The New York Times Book Review
"The kids and I are so grateful for this gift you both have given to teachers, kids, and our world." –Ms. Corgill, 5th Grade Teacher, Alabama
A Publishers Weekly Best Book of 2023
A New York Public Library Best Book of 2023
A National Public Radio "Books We Love" title of 2023
Praise for Mascot
The Ojibwe author David Treuer has pointed out that Native Americans are not part of most other Americans' everyday lives. Their images, however, are everywhere: Thousands of American sports teams and schools have featured American Indian mascots and, although Native Americans have led successful protests against their harmful stereotypes, more than 1500 schools still have them.
A glance at the cover of the novel-in-verse MASCOT will tell you where it stands on this issue. ("Discrimination is discrimination, even when people claim it's 'tradition,'" is printed above a painted-over image of a feathers-wearing, tomahawkwielding Indian.) Written by Charles Waters ("African Town") and Traci Sorell (a member of the Cherokee Nation and author of "We Are Grateful: Otsaliheliga"), the book tracks how young minds can change over a single school year.
At the start of "Mascot," which takes place in a fictional Washington, D.C., suburb, there's a divide within an honors English class. Three eighth graders love their high school's American Indian mascot and three hate it. Keeping her own impressions to herself, their veteran teacher devises assignments that scrutinize the mascot as well as strategies of persuasion.
The story's catalyst is Callie, a new student who's Cherokee and repelled by all the face painting, whooping and tomahawk-chop chanting. Seeing Callie's discomfort, her peers variously react with defensiveness, disengagement and self-examination. Although "Mascot"'s outcome sometimes seems preordained, Waters and Sorell's plain-spoken verse is always sharp and direct.
—The New York Times Book Review
Waters and Sorell (Cherokee Nation) join forces to write about the power of being true to oneself.
In a middle school in Rye, a fictional town near Washington, D.C., a racist mural and offensive pep rally chants shock new student Callie Crossland, who is a citizen of the Cherokee Nation and African American. Callie shares a heartfelt poem with her seventh grade honors English class, reminding everyone that the "stupid tomahawk-chop chant" and the "cheap chicken-feather headdress" are nothing less than symbols of "white supremacy." Afterward, Ms. Williams, her teacher, assigns a persuasive writing and oration project entitled "Pros and Cons of Indigenous Peoples as Mascots." The small, broadly diverse group of students is assigned to work in pairs; Callie is matched with Franklin, who is Black and a proud fan of the Rye Braves football team. Franklin insists, "I wish we could Lysol racism away. / It's a bad odor," but he feels conflicted: "I still don't think our mascot is racist though. It brings so much joy. / …what's the big deal?" This clever novel unfolds in poems told in multiple voices showing the wide range of students', families', and community responses to the controversy; for some, initial feelings of opposition, hesitation, or indifference change and friendships are tested. The compelling, highly relevant subject matter and accessible text invite readers to understand different perspectives and witness individual growth.
A brilliant story not to be missed; deeply engaging from the first page. (glossary, additional information and resources) (Verse fiction. 10-14)
—Kirkus Reviews, starred review
Told via seven alternating narratives, this ripped-from-the-headlines collaboration in verse by Waters (African Town) and Cherokee Nation member Sorrel (One Land, Many Nations) follows a fictional town's division over a racist sports mascot. Callie Crossland, who is Cherokee and Black, has just transferred to a middle school in Rye, Va. She immediately expresses disgust at her school's mascot, a "copper-toned, muscled, loincloth-clad, tomahawk-wielding" caricature of an Indigenous person. Callie's English teacher Ms. Williams soon assigns a group writing project regarding the "Pros and Cons of Indigenous Peoples as Mascots," and Callie is annoyed at being paired with Black classmate Franklin, who believes the mascot "brings so much joy." Waters and Sorrel paint a complex portrait of the differing reactions toward the controversy by layering the racially diverse tweens' perspectives and showcasing the effects the event has on their individual relationships and the community beyond their school. The creators eschew judgment to present a well-rounded discussion about classism and racism, as well as effective allyship, with compassion and understanding. A glossary and resources conclude. Ages 10–up.
—Publishers Weekly, starred review
Ms. Williams tasks her eighth-grade honors English students with a persuasive writing and oral presentation assignment arguing the pros and cons of using Indige-nous peoples as mascots. Throughout the course of a school year the story unfolds in a series of poems that detail the per-spectives of six students: Callie (Cherokee African), Franklin (African American), Priya (Indian American), Luis (Salvadoran American), Tessa (white and previously homeschooled), and Sean (working-class white). Predictably, Callie, Priya, and Tessa (who sees herself as a committed antiracist) oppose Indigenous mascots, while the boys, who enjoy war paint and tomahawk chops at Rye Braves games, claim the mascot de-picts pride in the team and their school. While the discord around the mascot is a long-standing one in the Virginia community, the assignment empowers the students to take the issue to the school board. After further research, one student switches sides, losing a friend in the process. While the plot requires a fair amount of exposition detailing history and arguments on both sides, the characters are well developed and believable, and the story flows smoothly. A valuable classroom pick that demonstrates the importance of debate.
—Booklist


Waters and Sorell's novel in verse, told in alternating perspectives, tackles the relevant topic of racist imagery in mascots. In the football town of Rye, VA, Callie, who is Black and a member of the Cherokee Nation, shares her earnest poem in eighth-grade honors English class about using Indigenous peoples as mascots. Their teacher then sets up a formal debate to address the pros and cons of the school's Indigenous mascot. The diverse group of students have varied backgrounds and strong feelings about the issue. As they work through their debate, questions about what is right emerge, friendships are tested, and what it means to be an ally is brought forth. Each character grows throughout the book. However, as in life, the issue remains sensitive and unresolved. VERDICT Highly recommended as a pick for classrooms to use in debate and conversations; a timely and important novel.
—School Library Journal