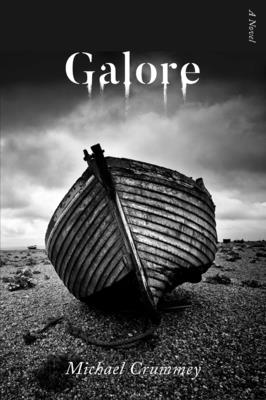 Galore: A Novel
Publication Date:
August 22nd, 2023
Usually Ships in 1 to 5 Days
In his gripping novel, Crummey has created a world rich in mythology and folklore, populated by some of the most memorable characters I've ever been introduced to - from Judah, the man found alive in the belly of a whale beached on the shore of a Newfoundland fishing village, to Devine's Widow, a powerful woman whose first name has been lost to history. The language is beautiful, and the stories are compelling. A fascinating and memorable read.
April 2011 Indie Next List
Description
Winner of the Commonwealth Writers' Prize for Best Book, Caribbean & Canada and the Canadian Authors Association Literary Award; Finalist for the Governor General's Literary Award for Fiction, the Thomas Head Raddall Atlantic Book Award, and the Winterset Award
When a whale beaches itself on the shore of the remote coastal town of Paradise Deep, the last thing any of the townspeople expect to find inside it is a man, silent and reeking of fish, but remarkably alive. The discovery of this mysterious person, soon christened Judah, sets the town scrambling for answers as its most prominent citizens weigh in on whether he is man or beast, blessing or curse, miracle or demon. Though Judah is a shocking addition, the town of Paradise Deep is already full of unusual characters. King-me Sellers, self-appointed patriarch, has it in for an inscrutable woman known only as Devine's Widow, with whom he has a decades-old feud. Her granddaughter, Mary Tryphena, is just a child when Judah washes ashore, but finds herself tied to him all her life in ways she never expects. Galore is the story of the saga that develops between these families, full of bitterness and love, spanning two centuries.
   With Paradise Deep, award-winning novelist Michael Crummey imagines a realm where the line between the everyday and the otherworldly is impossible to discern. Sprawling and intimate, stark and fantastical, Galore is a novel about the power of stories to shape and sustain us.
Praise for Galore: A Novel
"[An] expansive yarn…in lilting prose." —The New Yorker
"This is the book that will win Crummey a permanent place in American readers' hearts. With Galore he has done something much more besides writing a compulsively readable book. He has created an unforgettable place of the imagination. Paradise Deep belongs on the same literary map as Faulkner's Yoknapatawpha and Garcia Marquez's Macondo." —Boston Globe

"Like the two-faced ocean they pull their living from, Crummey's characters in this multi-generational unwinding are icy and surprising. The denizens of Paradise Deep and its neighboring town, the Gut, end up as twisted as the wind-tortured trees, making for a quirky quilt of personalities that might remind a reader of Annie Proulx's The Shipping News." —Washington Post

"A glittering, fabulist tale…reminiscent of the work of Jean Giono, particularly Joy of Man's Desiring, and Laura Esquivel's Like Water for Chocolate, Galore is a tale in which humans are confronted with the miraculous." —Los Angeles Times
"In grand language and colorful storytelling, Michael Crummey traces through several generations the fortunes of two families from the outport of Paradise Deep in Newfoundland…This is a book to savor. You won't want to miss any of its delights: the tightly braided narrative skeins, the pathos and humor of the characters, the exotic flavor of a long ago time and place." —Minneapolis Star Tribune

"In the annals of memorable family feuds, the Devines and the Sellerses deserve to be added to the Capulets and the Montagues and the Hatfields and McCoys…There's also something Faulknerian in Crummey's small-town myth-crafting." —Christian Science Monitor
"Distinctive and unforgettable…It's a compelling, haunting portrait of hard lives in a hard place, and for American readers in particular, Crummey's Newfoundland may prove the definitive version." —Rain Taxi Review of Books
"Mythic and gorgeous…Crummey lovingly carves out the privation and inner intricacies that mark his characters' lives with folkloric embellishments and the precision of the finest scrimshaw." —Publishers Weekly (starred review)
 
 "Newfoundland author Crummey's award-winning third novel…affirms that our lives are always astonishing. It's been justly compared to Gabriel García Márquez's One Hundred Years of Solitude. It also calls to mind Graham Swift's Waterland and Alexis Wright's Carpentaria, as well as William Faulkner's epic Compson novels, and will appeal to readers who enjoyed those works." —Library Journal (starred review)
"Ghosts, gangsters, mermen and a Christ-like healer who emerges from the belly of a beached whale are among the attractions in a boisterous, one-of-a-kind folk epic about feuding intermarried clans in Newfoundland…A lively, eccentric, mythmaking novel inspired by 200 years of Canadian history." —Kirkus Reviews

"A dense, sprawling tale of two families bound together by love, secrets, fate, and a mysterious stranger… Spanning two centuries of Canadian history and presented in Garcia Marquez-inspired magical realism fashion, Crummey's ambitious story of immigrant settlement, family alliances and clashes, heroism and failure is deeply moving and disquieting, sure to make some waves." —Booklist
"Gratitude galore for Galore, a book so alive with enchantment I should not be surprised if it crawled right out of my hands and into the sea. Truly, a fantastic read." —Kate Bernheimer, author of The Complete Tales of Lucy Gold and editor of My Mother She Killed Me, My Father He Ate Me
"Michael Crummey is a passionate storyteller. His world is intensely imagined and starkly real. Life leaps off the pages of Galore." —Jane Mendelsohn, author of I Was Amelia Earhart and American Music

"Michael Crummey's Galore is a fabulous, fable-filled ball of yarns such as I've never encountered before. Tall, but plausible tales, odd, eccentric but weirdly familiar characters, dialogue straight out of the mouths of outport Newfoundlanders, historicized fiction, fictionalized history—it has, as its title suggests, a super-abundance of good things. This is art, but not art full of solemn, self-importance. Galore is artfully, and seriously, entertaining." —Wayne Johnston, author of The Colony of Unrequited Dreams

"It's an incredibly difficult task to make characters such as these work as human beings as well as elements of folklore, and Crummey does it with as much skill and grace as Gabriel Garcia Márquez does in One Hundred Years of Solitude." —The Globe and Mail
"Pitch-perfect, boisterous...Galore is an endearing romp. For the language alone — and there is so much more — I loved the book." —National Post

"Michael Crummey's third novel injects an element of magic realism to convey an otherworldly quality … a dense, intricate, and absorbing tale, rich in the nuances of human relationships." —Quill & Quire

"This economically told epic is masterful, written by a man with enough confidence to let his readers interpolate the meaning not only of certain words, but entire character arcs." —Toronto Star
"Galore is an absolute pleasure. In Crummey's capable hands, the setting breeds magic... A complex narrative that feels effortless, yet is woven so tightly that the magnificent artistry of its creator cannot be ignored." —The Walrus

"In a sweeping story of several generations, Galore reveals the lives of the Irish and West Country English in rugged Newfoundland…Capturing the speech and temper of a primitive world, and communicating it perfectly, the writer delivers a masterpiece." —ForeWord Reviews