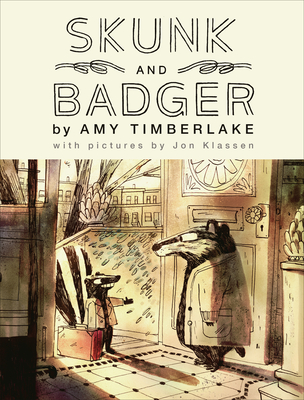 Skunk and Badger (Skunk and Badger 1)
Publication Date:
September 15th, 2020
Publisher:
Algonquin Young Readers
Usually Ships in 1 to 5 Days
Skunk and Badger has everything I want in an early reader book: madcap silliness, fun science facts about geology and chickens, and a heartfelt lesson told through the mistakes Badger makes on a bumpy road to friendship with Skunk that lead him to reckoning and atonement. Also, Jon Klassen's artwork is beautiful and adds so much to the story. Loved it!
Fall 2020 Kids Indie Next List
Description
Learn how Skunk and Badger first became roommates before embarking on their latest adventure, Egg Marks the Spot!
A Best Book of 2020: People * Kirkus Reviews * Booklist  * School Library Journal * Publishers Weekly * Shelf Awareness for Readers * New York Public Library * Chicago Public Library * Evanston Public Library
Wallace and Gromit meets Winnie-the-Pooh in a fresh take on a classic odd-couple friendship, from Newbery Honor author Amy Timberlake with full-color and black-and-white illustrations throughout by Caldecott Medalist Jon Klassen.
 
No one wants a skunk.
 
They are unwelcome on front stoops. They should not linger in Important Rock Rooms. Skunks should never, ever be allowed to move in. But Skunk is Badger's new roommate, and there is nothing Badger can do about it.
 
When Skunk plows into Badger's life, everything Badger knows is upended. Tails are flipped. The wrong animal is sprayed. And why-oh-why are there so many chickens?
 
"Nooooooooooooooooooooo!"
 
Newbery Honor author Amy Timberlake spins the first tale in a series about two opposites who need to be friends.
 
New York Times bestselling author/illustrator and Caldecott Medalist Jon Klassen completes the book with his signature lushly textured art. This beautifully bound edition contains both full-color plates and numerous black-and-white illustrations.
 
Skunk and Badger is a book you'll want to read, reread, and read out loud . . . again and again.
Praise for Skunk and Badger (Skunk and Badger 1)
A 2021 Capitol Choices Noteworthy Books for Children and Teens Selection
"Wordy fun, with laugh-out-loud dialogue…this book defies age grouping. Anyone who has shared a living space — with siblings, classmates or grown adults — can relate to this witty and whimsical tale… Lovers of rocks and chickens, and nerds of all stripes, will crack a smile…Scratchy yet sophisticated ink drawings by the Caldecott Medal winner Jon Klassen add warmth to the already cozy text…they give this handsomely designed book the look and feel of a classic."
—The New York Times Book Review
"Curmudgeonly Badger is not amused when Skunk moves in. Endearing comedy ensues."
—People
"Gloriously complemented by Jon Klassen's meticulous illustrations, Skunk and Badger has the feel of a bygone era while telling a completely modern (and delightful) story of how hard change can be, and how worth it change is."
—NPR
"A splendid entry in the odd-couple genre, Timberlake's spunky series opener posits that compassion and inner transformation can strengthen the unlikeliest of friendships. It's an approach that gestures toward broader societal conversations (consider the word that prompts Skunk to leave: "vermin") without losing focus on the story's delightful central duo. The use of fragmented sentences, repetition, and onomatopoeia makes for a fun read. Klassen's muted, wistful artwork, meanwhile, invokes sweeping sentiments during key events. Exceptionally sweet."
—Kirkus Reviews, starred review
"Newbery Honor Book author Timberlake doesn't underestimate her readers, unhesitatingly incorporating advanced vocabulary and probing Badger's inner turmoil… Klassen contributes a winning mix of vintage-feeling color paintings and black-and-white drawings, which highlight both the story's sweet and laugh-out-loud moments, as well as its understated quirk. It's a treasure of a book that promises future misadventures from your new favorite odd couple." 
—Booklist, starred review
"Art by Caldecott Medalist Klassen offers Wind in the Willows wistfulness. Gleeful, onomatopoeic prose by Newbery Honoree Timberlake, meanwhile, keeps readers engaged through laugh-out-loud repetition as she tackles sensitive issues such as elitism, exclusivity, and even science cited for nefarious purposes. Frog and Toad–like in nuance and tenor, this is no old-fashioned story in which Skunk charms Badger and thaws his frozen heart. Badger is in a privileged position, and his refusal to share what he has and to protect Skunk and his guests has a deep and timely significance—one rendered with an expertly light touch." 
—Publishers Weekly, starred review
"Clear themes of tolerance, friendship, and understanding drive the story in a way that children will respond to. The subtle nod to unemployment and potential homelessness that begins the story provides opportunities to expand learning and compassion. ­Overall, a sweet unlikely friendship story that would be a welcome addition to any elementary or public library." 
—School Library Journal
"Amy Timberlake writes with whimsical humor reminiscent of A.A. Milne, Arnold Lobel and Kenneth Grahame, which is reinforced by Jon Klassen's splendid illustrations. [A] charming, funny and touching trilogy opener."
—Shelf Awareness
"In Skunk and Badger, Amy Timberlake has created a wonderful world . . . The characters are so lovingly drawn, and the world they inhabit so vivid. Lovers of Winnie the Pooh stories and The Wind in the Willows will find a contemporary story in the same vein. The book ends on just the right note and readers can hope for more adventures with this mismatched pair. Like George and Martha and Frog and Toad, Skunk and Badger feel like literary friends with many pages of stories to tell."
—New York Journal of Books
"Reminiscent of Lobel's Frog and Toad stories... Klassen's black and white art is finely lined with intricate detail and rich shading, calibrating to the story's classic feel but maintaining a modern edge. Readers graduating from Lobel's work but still looking for a good animal buddy story will find it with Skunk and Badger." 
—The Bulletin of the Center for Children's Books
"A charming tale with gorgeous illustrations to match. The unlikely friends story is one that many will appreciate and enjoy, with plenty of nostalgia for older readers. We all remember being read to sleep with wonderful stories, and who is to say we don't deserve it as adults too? Underneath the cosy atmosphere of Timberlake and Klassen's creation is a deep, thought-provoking children's book that doesn't talk down to younger readers. It is a surefire fall treat."
—Bookstr
"Amy Timberlake has written a laugh-out-loud funny book for younger middle graders that puts a fresh spin on the old trope of learning the importance of friendship. The writing is terrific and so funny. The delightful illustrations by Jon Klassen are a nice addition to the story. Kids will love this one, as will anyone who gets hold of it."
—Manhattan Book Review
"Kids will love the humor in this book, as the two of them learn to adjust to one another's peccadilloes and become friends. Hint: you'll love it, too."
—Philadelphia Tribune
"Somewhere east of 'Frog and Toad' and west of 'The Odd Couple' live Skunk and Badger, as mismatched a pair of musteloids as you'll ever find in North Twist…Jon Klassen's full-color plates and spot black-and-white illustrations give Skunk and Badger an old-fashioned appearance in the right kind of way…You will learn a little about rocks and chickens while reading this book. More importantly, you will learn about the delicate art of working things out with the people you live with, a timely lesson for many of us cooped up together during the COVID-19 pandemic."
—Milwaukee Journal Sentinel
"Skunk and Badger is everything I want in an early reader book: madcap silliness, fun science facts about geology and chickens, and a heartfelt lesson about the mistakes Badger makes on a bumpy road to friendship with Skunk and Lead him to reckoning atonement. Also, Jon Klassen's artwork is beautiful."
—The San Diego Union Tribune
"…Both an entertaining solo read for emerging readers and a lively read-aloud for younger kids. Caldecott Medalist Jon Klassen's occasional illustrations add yet more pizazz to a story rich with humor and heart."
—Washington Parent
"A delightful, witty tale . . . Middle grade readers will be enthralled by the funny, precise portrait of two distinct personalities coming together in an unlikely but durable bond of friendship."
—Midwest Book Review
"Fresh and warm as a waffle. More, please!"
— Adam Rex, New York Times best-selling author of The True Meaning of Smekday and School's First Day of School
"A gently brilliant book by Amy Timberlake. Skunk and Badger reads like a classic yet couldn't be more timely, and is one of those books that you want to start rereading as soon as you reach the end. Jon Klassen's art is fabulous and perfectly suited to the text."
—Jarrett Lerner, author of EngiNerds and Geeger the Robot Goes to School