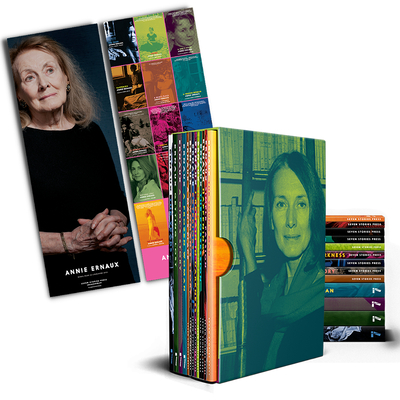 Annie Ernaux: The Boxed Set
Publication Date:
September 26th, 2023
Publisher:
Seven Stories Press
Usually Ships in 1 to 5 Days
Description
Thirteen books written by 2022 Nobel Laureate Annie Ernaux published by Seven Stories Press.
Includes a colorful limited edition poster.
"The harrowing beauty and brevity of these books and their apparent simplicity disguise somewhat the punishing cost of their honesty." —Rachel Cusk, New York Times Magazine
Winner of the 2022 Nobel Prize in Literature, Annie Ernaux is considered one of Europe's most important contemporary writers. She has expanded the very meaning of literature and has asserted her feminism and class consciousness in the stories she tells.
Spanning Annie Ernaux's English language oeuvre from 1991–2023, this collection of all thirteen titles published by Seven Stories attests to Ernaux's range, depth, and enduring literary presence. Includes translations by Linda Coverdale, Tanya Leslie, Anna Moschovakis, and Alison L. Strayer.
Annie Ernaux: The Boxed Set includes:
- The Years
- Getting Lost
- Simple Passion
- A Girl's Story
- Happening
- Shame
- A Man's Place
- A Woman's Story
- A Frozen Woman
- I Remain in Darkness
- Exteriors
- The Possession
- The Young Man
A folded limited edition poster is included in the boxed set. When unfolded, the beautiful vertical format features a portrait of Annie Ernaux on one side and all of the books listed above on the other side with a colorful design by Seven Stories Press art director Stewart Cauley.
Praise for Annie Ernaux: The Boxed Set
"Ernaux's works aren't coy or glancing; they've been sharpened to a point. Though she seems like a writer of details, each book is a vital mission, carried out with thrusting force. . . . [A]t the start of the strikes against Macron this year, when workers and students once more exploded against the police, the eighty-two-year-old Ernaux appeared at the head of a march: the somewhat dissonant image of the writer, fresh from her Nobel win, who remembers where she came from and still knows whose side she is on. As she told the audience in Stockholm: given her experience as a woman and as a child of the working class, she writes to get revenge." —Tobi Haslett, Harper's Magazine
"The harrowing beauty and brevity of these books and their apparent simplicity disguise somewhat the punishing cost of their honesty." —Rachel Cusk, New York Times Magazine