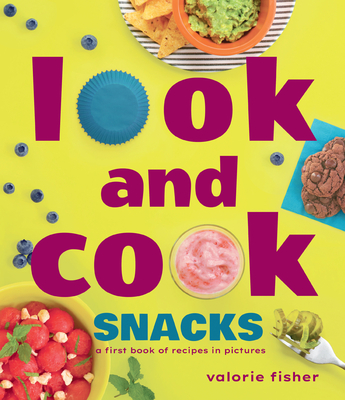 Look and Cook Snacks: A First Book of Recipes in Pictures
Publication Date:
October 10th, 2023
Publisher:
Astra Young Readers
Usually Ships in 1 to 5 Days
Description
Featured in the 2023 New York Times Holiday Gift Guide!

The first of its kind, Look and Cook Snacks is an entirely visual guide to cooking. Designed for children who can't yet read, this is a must-have introduction to the joys of cooking for kids ages 4 to 7. From scrumptious fruit smoothies to easy-peasy pizzas, each recipe will let your kid will take charge of their discovery of the kitchen! Key features for kids include:
Step-by-step visual instructions— Let kids who can't yet read and visual learners guide their own cooking journey.
 A guide to kitchen basics— Learn skills like mixing and measuring, and proper handling of safe-to-use kitchen equipment.
 Family-friendly recipes— Delicious, easy, and healthy snacks for the entire family to enjoy making and eating together!
Praise for Look and Cook Snacks: A First Book of Recipes in Pictures
A KidlitMama Holiday Gift Guide selection
"The step-by-step instructions are so simple even kids who don't read can follow them, and with catchy names that are mashups of ingredients, nationalities, genres, textures and happy outcomes, the 17 snacks (and two beverages) featured are sure to whet young appetites."—The New York Times Holiday Gift Guide
"Budding chefs get a boost of independence with this visual cookbook designed to guide pre-readers, step-by-step, through the creation of 19 snack recipes...suggested variations and the clarity of this infographic approach will inspire confidence and should appeal to families that embrace early elementary autonomy. Care for some Yummus, anyone?" —Booklist
"SO easy for kids to follow." —BookRiot
"These recipes will inspire healthy eating as well as feeling good about being independent in the kitchen… (t)his is an extremely well-thought out and presented cookbook and it will make kids feel like they belong in the kitchen."—Youth Services Book Review

"A perfect first cookbook for kids. I'm a little bit jealous that they don't have a picture cookbook for adults. Anyone who has looked at their creation, looked back at the recipe, and asked themselves, '...Does this look right?' will understand what I mean." —The Tiny Bookstore, Pittsburgh, PA
"My child and I now share a favorite cookbook. Presented in an absolutely brilliant way for young foodies to feel comfortable and have fun in the kitchen." —Kelsie King-Duff, McClean and Eakin
"Inspires kids to cook with easy and delicious snack recipes." — Library Mom Books