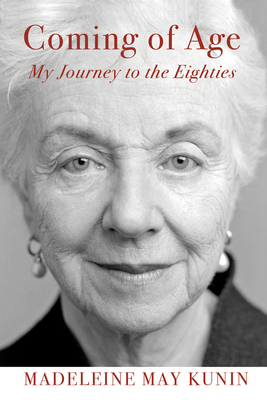 Coming of Age: My Journey to the Eighties
Publication Date:
November 22nd, 2019
Publisher:
Green Writers Press
Usually Ships in 1 to 5 Days
Description
Many readers are already familiar with Madeleine Kunin, the former three-term governor of Vermont, who served as the deputy secretary of education and ambassador to Switzerland under President Bill Clinton. In her newest book, a memoir entitled Coming of Age: My Journey to the Eighties, the topic is aging, but she looks well beyond the physical tolls and explores the emotional ones as well. And she has had an extraordinary life: governor, ambassador, feminist, wife, mother, professor, poet, and much, much more. 
As recently reported in the New York Times, a girl born today can expect to live to the age of ninety, on average (boys, on the other hand, can expect to live until age eighty-five). Life expectancy, for many, is increasing, yet people rarely contemplate the emotional changes that come alongside the physical changes of aging. Madeleine wants to change that. Coming of Age: My Journey to the Eighties takes a close and incisive look at what it is like to grow old. The book is a memoir, yet most important of all, it is an honest and positive look at aging and how it has affected her life.
Cover photo © Todd Lockwood.