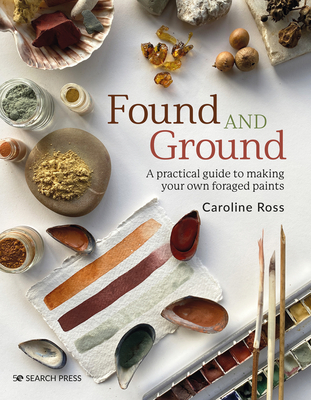 Found and Ground: A practical guide to making your own foraged paints
Publication Date:
July 25th, 2023
Description
Everything you need to learn how to make your own natural watercolor paints, oak gall ink and the brushes and pens to use them with. You'll find out how to forage for the materials you need in your locale and grasp the principles of simple, natural paint-making.
Natural', 'no waste' and 'plastic-free'. If this is how you want to live your creative life, you will find a greener, more natural path with this book. It details a more sustainable and fulfilling approach to painting. Covering every aspect of making natural paints, from finding raw materials to the techniques needed to refine it, this book is suitable for the complete beginner as well as those with some experience in art. Found and Ground will also appeal to those with plenty of experience drawing and painting, but who until now have only used shop-bought materials to make their work.
Found and Ground is the ideal reference book for artists and crafters wishing to moves away from plastics, such as those found in acrylic paints, as the natural paints can be used in their place. The book covers how to make a series of simple natural paints such as watercolor, gouache, tempera, and glair. It also includes innovative vegan 'egg paint' alternatives. 
Aimed at a general readership, all specialist art terminology is clearly and simply explained, and all the techniques demonstrated through step-by-step instructions. The book will also give fresh ideas to those stuck in a rut with their use of watercolors, and introduce readers to try new 'old ideas'. Most importantly, it will teach readers how to forage and gather successfully and safely.
Praise for Found and Ground: A practical guide to making your own foraged paints
Publisher's Weekly

This pleasant debut from artist Ross shows how to make paint pigments from chalk, clay, rocks, and other found materials. Providing tips on how to forage colorful materials in a variety of locales, she notes that readers might look for greenish shale in fields, pink clay at beaches, and orange discarded bricks in urban areas. Instructions outline how to turn the materials into pigments. For stones, Ross advises hammering them into tiny pieces, grinding the bits with a mortar and pestle, filtering the results through a sieve, then adding them to a jar with water, letting the mixture settle, and pouring out the standing water, which leaves behind only the finest sediments at the bottom of the jar. Transforming the pigment into watercolor paint requires more water and a medium to produce a more gel-like texture, which can be made with foraged solidified gum from cherry, acacia, or other "non-coniferous" trees. Ross details how different mediums create different looks, observing that substituting egg whites for gum results in a glossier finish. The finicky procedure might take some trial and error to master, but the comprehensive directions ensure readers are well prepared. The result is an enjoyable take on how artists can get in touch with the natural world.
BOOKLIST (American Library Association)
It was only a matter of time until the foraging craze turned to paints—watercolors, in this case. Why make your own paints? Per artist, instructor, and author Ross, making your own paints offers customization and self-reliance, with earthy pigments tested as stable, relatively lightfast, and long-lasting. Ross focuses on her native UK, incorporating a few instances of unique pigments found in places like New Mexico and California. The philosophy of ethical foraging is embedded everywhere: gather only what's needed; avoid contaminated areas, and wear protective gear; stay clear of protected spaces. She carefully scopes out several types of land (beach, countryside, woodland, rural roads, edge lands and wastelands, fresh water) and the potential hues to be found in them, with specific examples like acorn caps and birch bark, cherry plum and damson sap. Paint recipes are plentiful and include step-by-step photographs for processes like refining materials and developing gouache, glair, and even inks. Look to the included watercolor galleries of artist works for inspiration. Nature repurposed is nature enhanced.