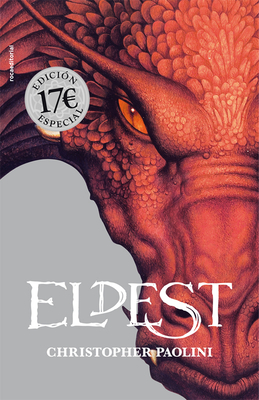 Eldest (Spanish Edition) (THE INHERITANCE CYCLE)
Publication Date:
September 1st, 2011
Publisher:
Roca Infantil y Juvenil
Description
Eragon y su dragona, Saphira, acaban de impedir que las poderosas fuerzas del rey Galbatorix, cruel regente del Imperio, destruyan para siempre al ejército rebelde de los vardenos en Farthen Dur, la ciudad montaña de los enanos.
Pocos días después de la sangrienta batalla contra los urgalos, Eragon y Saphira tienen que viajar a Ellesméra, el país de los elfos, para continuar con su formación en la magia y en la lucha con la espada, las dos habilidades especiales de los Jinetes del Dragón, para poder enfrentarse al malvado rey. Los acompañarán Arya, la elfa, y Orik, el enano, en una viaje plagado de descubrimientos y aventuras, con parajes fabulosos y nuevas amistades. Pero el caos y la traición los acechará sin descanso, y Eragon no sabrá en quién confiar.     
                                                             
ENGLISH DESCRIPTION
Eragon and his dragon have just saved the rebel state from destruction by the mighty forces of King Galbatorix, cruel ruler of the Empire. Now, Eragon must travel to Ellesmera, land of the elves, for further training in magic and swordsmanship, the vital skills of the Dragon Rider. It is a journey of a lifetime, filled with awe-inspiring new places and people, each day an adventure.