Author/illustrator John Churchman will be at the Craftsbury Farmers' Market on Saturday, August 5th, with his border collie Laddie to meet readers and sign copies of his popular picture book series Sweet Pea & Friends. You can pre-order your signed books through The Galaxy Bookshop ahead of this event and pick them up at the Farmers' Market or at The Galaxy Bookshop after August 5th. Please fill out the form below to reserve your signed books today.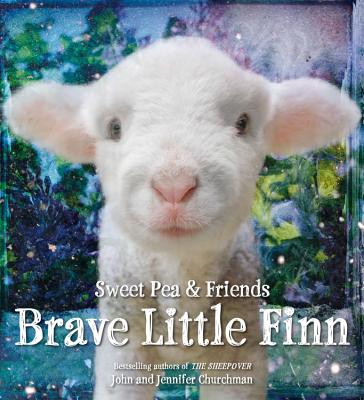 Brave Little Finn, by John & Jennifer Churchman
Meet the adorable and resilient baby lamb Finn in this true story about friendship and courage — a follow-up to the bestselling picture book phenomenon The SheepOver.

Newborn lamb Finn, raised inside the farmhouse, isn't as big and strong as the other animals on the farm. He can't help but be frightened as he ventures outside and encounters unfamiliar sights, sounds, and creatures. With the help of Farmer John and his animal friends, Little Finn learns to be brave and mighty.
This charming story by John and Jennifer Churchman, featuring real animals on their bustling Vermont farm (including Sweet Pea from The SheepOver ), celebrates the magic of friendship and finding the courage within.
The SheepOver, by John & Jennifer Churchman
Meet the adorable orphan lamb Sweet Pea and discover why her true story has become a picture book phenomenon and enchanted readers of all ages.
One cold winter night, Sweet Pea the orphan lamb becomes very sick. Everyone in the farmyard is worried about her Under the watchful care of Farmer John, Laddie the sheepdog, and Dr. Alison the mobile veterinarian, she slowly recovers. Dr. Alison tells Sweet Pea she can have a sleepover to celebrate as soon as she is well again. When the day finally comes, her closest friends Sunny, Prem, and Violet join her in the greenhouse for a fun and imaginative "SheepOver" celebration.This charming story of caring and friendship by farm owners John and Jennifer Churchman, brought to life with John's entrancing photo-illustrations, will enchant readers young and old. In the words of one of her many fans, "Sweet Pea brings a calming, authentic joy to my life that makes me laugh, cry and gives me hope that all is well in the world. . . . Everyone needs a little Sweet Pea in their lives "