Sandy has worked at The Galaxy Bookshop since 2000, when she worked during school breaks. Now, as co-owner of the bookstore, she doesn't get to read on the job like she used to, but still gets excited every time she opens a new box of books. Sandy is the events coordinator, children's book buyer, and website manager for the store, as well as being a frontline bookseller.
Books have brought great joy and comfort into Sandy's life, and she feels very lucky to work in a place where she can share this with others every day. Although it would be impossible to list all of her beloved books here, here, at least, are some of the recent titles that have captured her heart. (If you want to see the long–yet still incomplete–list, you can find me on Goodreads!)
Current favorites:
My Lady's Choosing, by Kitty Curran and Larissa Zageris. If you have fond memories of Choose Your Own Adventure books AND you love a little escapist romance from time to time, you will love My Lady's Choosing, an "interactive" romance novel in which you, the reader, are the main character and have the power to determine which journey you will take in the story. Will you seek the attentions of a devilishly handsome aristocrat? Become a governess in the home of a mysterious and handsome gentleman on the English moors? Toss convention to the winds and join a band of wandering female assassins? Told with more than a dash of humor, this homage to the historical romance genre is laugh-out-loud fun and good for numerous readings.
American by Day, by Derek B. Miller. Nominally a police procedural, this novel is a follow-up to Norwegian by Night (which I haven't read – you can read this one on its own). Chief Inspector Sigrid Oedegard is on sabbatical after being involved in a traumatic event. She returns to her father's home, where her father directs her to leave at once for America to search for her older brother, who has gone missing. Upon arriving in upstate New York, Sigrid uncovers the ugly wounds of racism, exacerbated by a culture based on consumerism and violence. This book is a fascinating take on American culture, wrapped in a detective story and fleshed out with intriguing characters.
Eternal Life, by Dara Horn. Dara Horn is an author I've returned to multiple times, never to be disappointed. Eternal Life is just as satisfying as previous novels I've read by Horn. Without giving too much away, I can tell you that this is the story of Rachel, a woman who is unable to die. She has outlived numerous husbands and children, seen unimaginable changes, and has kept her secret safe over centuries. At last, in the twenty-first century, she must decide whether it is time to come clean, and whether that could bring an end to her eternal life.
The Adventures of a Girl Called Bicycle, by Christina Uss. What a completely delightful novel for middle grade readers! Bicycle was named so because it was the only word she could say after being discovered orphaned on the steps of the Mostly Silent Monastery in Washington, D.C. (The Mostly Silent Monks are limited in their vocabulary to the use of seven necessary words, including "hello," "help," and "sandwich.") When her guardian, Sister Wanda, decides that Bicycle needs to go to a camp to find friends her own age, Bicycle sets out to prove that she can make friends on her own – by embarking on a cross-country bicycle trip to meet her idol, a famous European cyclist. Along Bicycle's journey, she encounters such diverse and slightly off-beat characters as a ghost from the Civil War, a restauranteur with a dream of elevating American fast food, a race horse, and a sinister woman who may be trying to steal Bicycle's vehicle for her own mysterious purposes.
Young Jane Young, by Gabrielle Zevin. This story is told from multiple perspectives – each piece of the story told by a different woman who is affected by the scandalous affair between a senator and his young intern. Young Jane Young holds up a mirror to our society's obsession with scandal and the double standards held for men and women in such cases. Great characters, sharp writing – I give this one 5 stars.
And further favorites:
A Gentleman in Moscow, by Amor Towles. Reading this novel was such a treat. Towles paints a vivid picture of life in Moscow following the Bolshevik Revolution. Or, more specifically, life for former Count Alexander Rostov, sentenced to house arrest in a hotel in Moscow. Through a growing and changing cast of characters who work and stay in the elegant Metropol, Alexander maintains a connection to the shifting landscape of Russian politics and culture over the course of 30 years. Through it all, his inner sense of what it means to be a gentleman – the quality that makes his character a joy to spend time with – remains unwavering.
---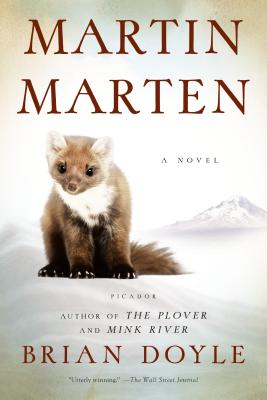 Martin Marten, by Brian Doyle. I fell in love with this novel – the writing, the story, and the characters. I've been recommending it to all sorts of readers, whether for the coming-of-age story, the observations of nature, the wonderful community of characters (both human and animal) or the engaging writing style.
---
Uprooted, by Naomi Novik. 
An excellent fantasy novel with a strong heroine whose yet untapped magical talents have deep connections with the natural world. I highly recommend this book for adults and teens looking for an immersive read that stands on its own (no need to keep up with a series!)
---
The Tilted World, by Tom Franklin & Beth Ann Fennelly. A wonderful historical novel set in 1927 in a small town on the banks of the Mississippi. The rising river sets a tense backdrop to the cat and mouse story of prohibition agents and bootleggers.
---
Remarkable Creatures, by Tracy Chevalier. A fascinating portrait of female scientists and the tremendous upheaval created by the discovery and study of dinosaur bones in the mid-nineteenth century. Based on the life of the unfairly forgotten palaeontologist Mary Anning.
---
The Scorpio Races, by Maggie Stiefvater. I love Stiefvater's ability to write YA fantasy that stands apart from the rest of the books in the genre. She mixes unusual mythologies and complex characters to create intriguing and compelling stories. The Scorpio Races is a stand alone novel about a girl who must risk everything to run her common horse in a brutal race against flesh eating water horses or else lose everything she holds dear. I also highly recommend Stiefvater's series The Raven Cycle
---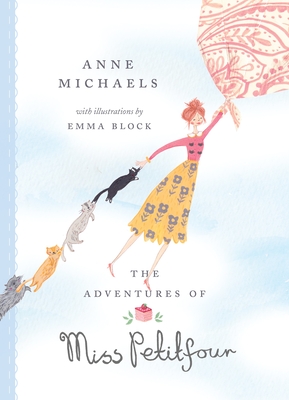 The Adventures of Miss Petitfour, by Anne Michaels, illustrated by Emma Block. If you love quiet stories with adventures that are not too big and not too small; if you love cats and tea and treats with whipped cream, this will be the perfect book for you. This is a small treasure of a book, with full color illustrations throughout, about Miss Petitfour, her sixteen cats, and their daily adventures as they travel about town by tablecloth (a different pattern, depending on the day and the adventure desired). A very sweet read-aloud!
---
The Cookie Fiasco! (Elephant and Piggie Like Reading!), by Mo Willems and Dan Santat. Fans of Elephant and Piggie and the Pigeon will rejoice to learn that their favorite author/illustrator is launching a new series aimed at early readers. Willems is collaborating with other authors and illustrators to write books that will encourage beginning readers with simple, easy to read text, vivid illustrations, and engaging – and above all funny – stories. This one has become a family favorite at bedtime. Faced with the conundrum of having three cookies to share among four friends – well, what would you do?
---
They All Saw a Cat, by Brendan Wenzel. This simple picture book with spare text offers a visually stunning lesson in seeing the world from a different perspective. From a bird's eye view of a cat stalking across the grass below to the vibrations felt by a mole living underneath the cat's footsteps, this book encourages readers of all ages think differently about the world around them.
---
Some older, all-time favorites: